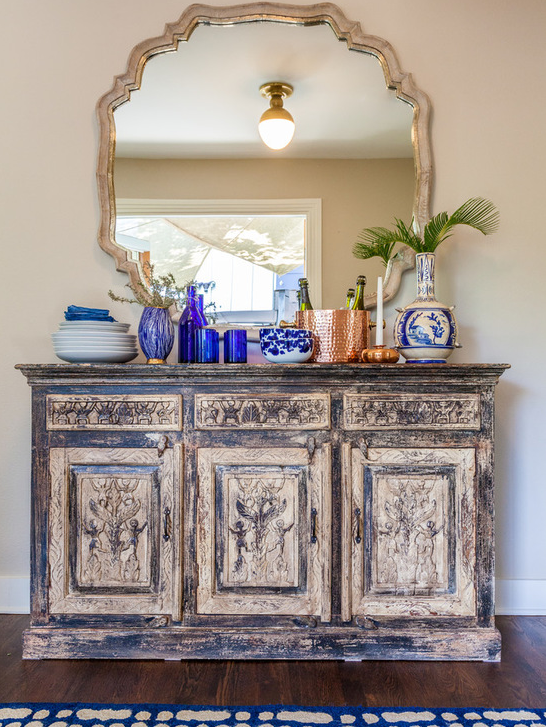 Back in 2015 my husband helped a young professional couple find their first home.  They ultimately fell in love with a cute 1950s bungalow in North Loop.  It was a charming house with good bones, but it was far from perfect.  As the bachelor pad of a guy that loved to cook, the house had lots of built-ins.  While the built-ins were functional, they chopped up the flow of the home, limited where you could place furniture, and detracted from the 1950s charm.  The couple was able to look beyond those superficial imperfections and bought the home.
But how to take it from good to great?
That's where Austin interior decorator Maureen Stevens comes in.  Shortly after getting settled into their new house the couple started looking for interior designers online.  Because of her strong presence on Houzz.com, the couple decided to interview Maureen.  Maureen was able to articulate the homeowner's style, giving them confidence that she would not only create a beautiful space but help them develop a home that reflected their way of life.  "We loved Maureen's website and what she's about," the homeowners told us.
Maureen got her start in the interior design world when she started blogging about her own do-it-yourself home projects.  As her blog became well known, local magazines asked her to style photo shoots for them.  One day local influencer Matt Swinney of Austin Fashion Week fame had her design a personal space in his home.  One thing led to the next, and now Maureen is a sought-after designer named as one Austin's Top 5 Interior Designers to watch by CultureMap.
We sat down with Maureen over coffee and got learn more about how she helped the couple transform their new home.  "I loved the house and could visualize it right away," said Maureen.  To get the ball rolling, Maureen had them complete a personal and project profile form, which asks basic questions like favorite magazines, likes and dislikes, hobbies, and more.    From their profile, she learned about the couple's love of travel and other interests that she later incorporated into her design plan for the home.   And for Maureen, that's what it's all about.  "I want them to have a place they love, so I really try to listen and create a design that is inspired by my client's lifestyle" she says.
Initially Maureen helped the couple with basic decisions like removing the built-ins to create more usable space and determining what color to stain the original hardwood floors.  She also evaluated the couple's existing furnishings and helped them decide what to keep and what to get rid of.  As the homeowners worked more closely with Maureen, they ultimately hired her to design the living areas and master bedroom, and later the whole house.   From there it all fell into place.
With a general plan and budget in place, the design work began.  When putting together design concepts, Maureen uses an online application to present her clients with options, get feedback in real time, and manage the project budget.   From furniture to accessories to space plans, clients can see the overall project online.  While face-to-face meetings are still part of the process, the online app allows Maureen to connect with clients at times beyond the traditional 9 to 5 workday.  This process functioned great for the new homeowners so that they could adjust their budget and choices along the way to get the look they wanted.
And the end result?  As you can see from the photos, the home has a vitality and energy to it.  It's colorful and polished, but still livable.  It's the kind of home where you're impressed with how beautiful it is, but you're also not afraid to sit on the sofa and relax.   Without the built-ins, the home is now very functional with no wasted space.  The thoughtful incorporation of some antiques add patina and texture to the rooms, and helps ground the bright pops of color.  "She got us out of our beige comfort zone," the homeowners said with a smile.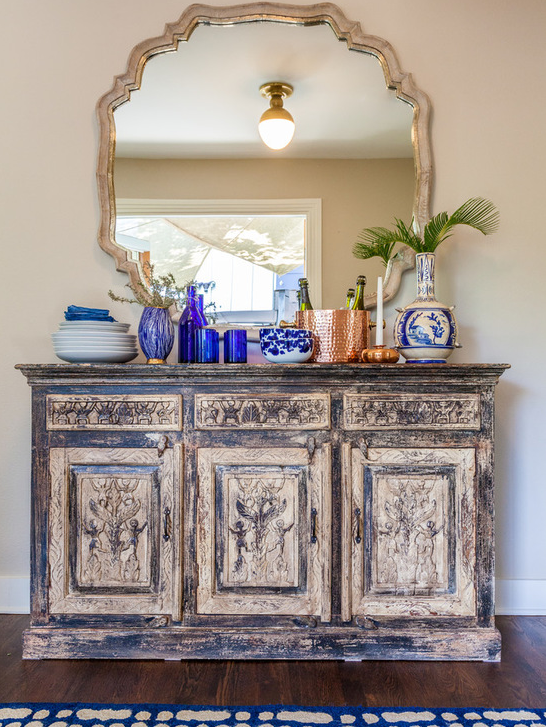 The turquoise door in the living room greets you cheerfully, and bold black and white artwork from One Kings Lane over the couch (purchased from the prior homeowner) adds heft.  A mix of modern and vintage pieces give the room an eclectic and comfortable feel.   The Anthropologie area rug grounds the Restoration Hardware coffee table and rattan chair, also from Anthropologie.  Above, the Aerin flush-mount light fixture adds a touch of shine.
Beautiful vignettes are scattered throughout the home, along with elaborately carved wood furniture pieces that provide hidden storage.  The Jacobean-style English cabinet is from 1st Dibs.   While the dining room is predominately decorated in neutral black and white with a modern fixture by Arteriors, cobalt blue accents add an unexpected dose of color.  The rustic blue sideboard in the dining room is from Cargo Imported Furniture.  The Lulu & Georgia rug continues the cobalt theme.  Maureen used framed fabric scraps to create the artwork.  That's an idea we plan to steal!
The home office has a soothing palette of greens, woods, and gold. The Crate & Barrel bookcase is both decorative and functional.  The swivel leather chair from Arhaus is a great place to cozy up to read, and the Loloi rug underneath brings subtle pattern to the space.   Those gorgeous malachite curtains are also from Crate & Barrel.
Custom artwork is the focal point of a gallery wall with family photos in the master bedroom, while a large credenza that adds interesting texture and depth.  Orange and navy accents bring in some color to the otherwise soothing and neutral palette and classic white bedding adds crispness.
The guest bedroom is a colorful combination of emerald green and coral and navy.  The room has a bright and fun vibe that is grounded by natural wood elements in the headboard and the liberal use of navy.    The flamingo art was sourced from Etsy, and the beautiful chair and rug from Anthropologie.  The painterly bedside lamp is from One Kings Lane.
Our favorite part, though, is how Maureen incorporated personal touches throughout the home so that it is a true reflection of this couple's past and a nod to their future together.  Maureen commissioned a custom art piece by local artist Dawn Winter based on a photograph from the couple's trip to Croatia.  The piece holds pride of place in the bedroom.  (A featured artist at Anthropologie, Dawn's work can be viewed on her website at http://dawnwinter.net/).  The couple's home office also features two commissioned watercolor pieces that are maps of the places they've been.
The couple's home is now a true reflection of their life together.   And that's pretty darn perfect.
***
You can see more of Maureen's portfolio at http://maureenstevens.com/
Photographs by the talented Sara Natsumi Moore.  You can see Sara's work at https://www.sarahnatsumi.com/
© 2017  |  A Life More Beautiful