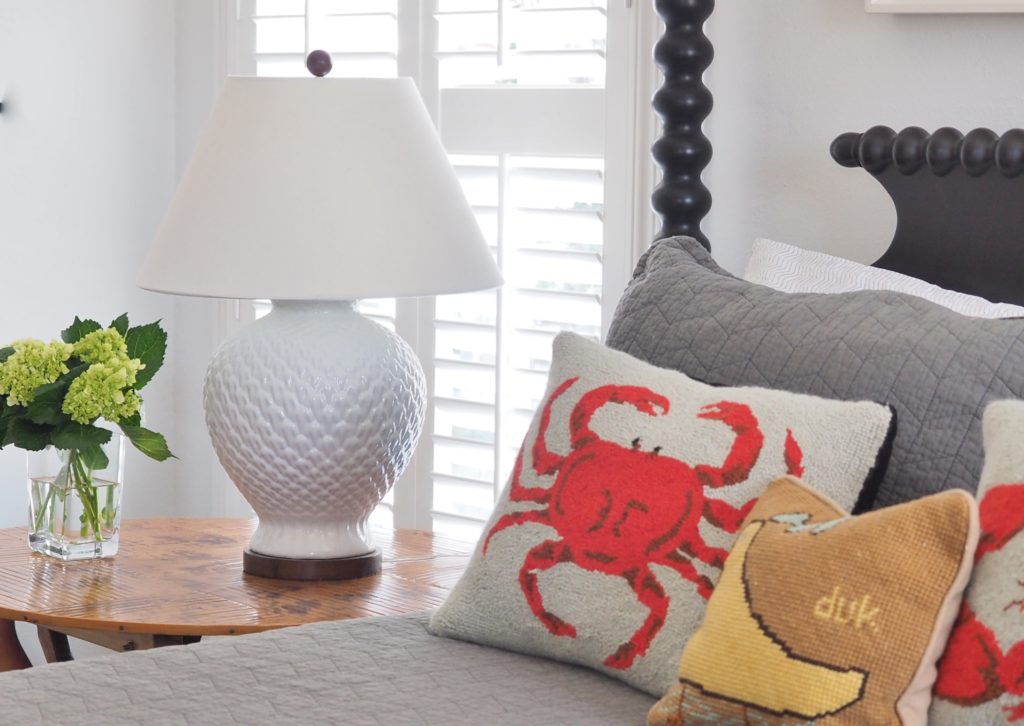 I want my Austin home to look like the beautifully designed homes you see in magazines.  But alas, my walls are graced with the sticky smudges of little hands instead of wallpaper.  My coffee table is littered with toys instead of art books.  And my floors are bare after all the rugs have been stained by juice spills and pets.  Sigh.  I assumed that this was just the life of a family with 2 small children age 6 and under.  Surely those beautiful homes in magazines don't always look like that, right?
And so I deluded myself until I went on the Tribeza Interiors Tour back in January.  So many lovely homes decorated perfectly.  I was in heaven.  On the tour was interior designer Merrilee McGehee's personal home.  As I walked in I was immediately struck by the bold colors, high design, and fun  — yet accessible — vibe.  It was fashionable, it was cool, it was livable.  In short, it was awesome.
And then I saw it.  A little girl's room.  And next door a young boy's room.  W-H-A-T????  How can this designer have young children?  Where are the stains and peanut butter smudges?  And in that moment, I came face to face with the truth that you can have a beautifully designed home with kids.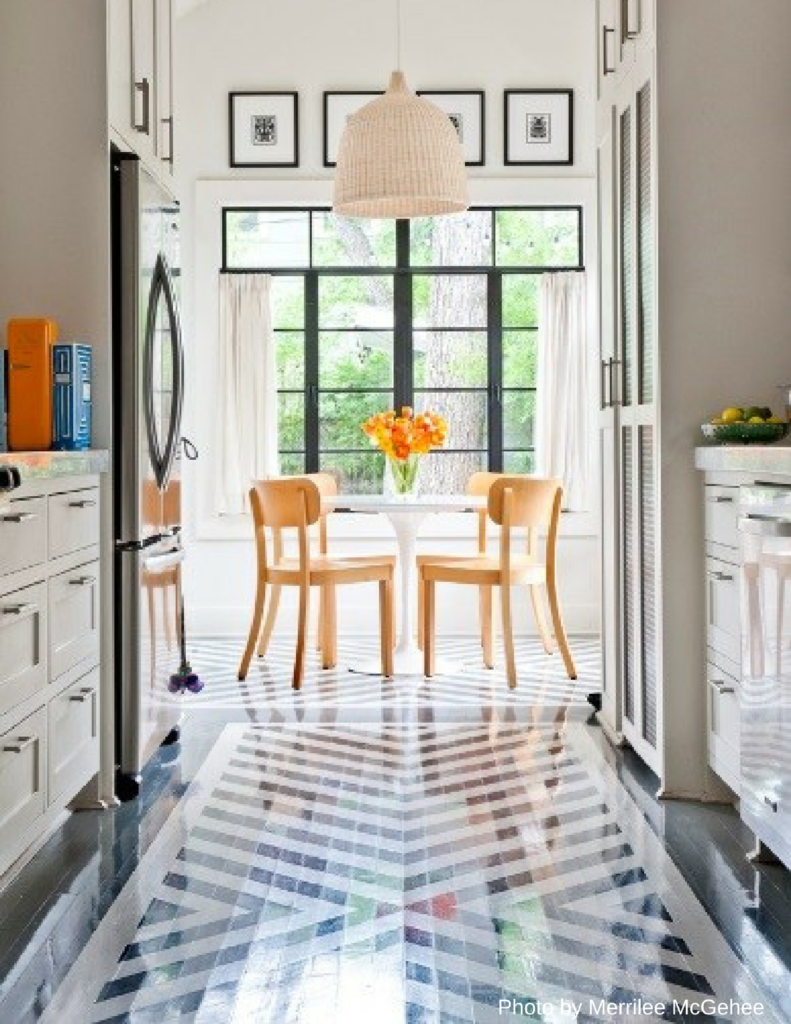 Who was this woman?  And more importantly, what magic potion does she give to her kids to have them keep the house looking so good?  I shyly introduced myself to Merrilee and asked if we could visit some time.  She said yes!  I immediately felt my hip factor sky rocket.  Not only is she a designer, Merrilee's been in movies.  I was going to hang out with a celebrity!  Fun!  I met up with Merrilee over coffee a few weeks later, and she graciously shared some of her secrets for merging high design with family in mind.  While I was tempted to keep Merrilee's wisdom to myself, I decided that her ideas are too good not to share.
With an Bachelor's degree in fine arts and a career as an actress, Merrilee came to be an interior designer by happenstance.  It all started with a floor…  Around 10 years ago Merrilee used her art training to lovingly remodel her 2-1 home in Bryker Woods, turning it into "one huge piece of art" on a budget.  Once you've seen Merrilee's work you realize that her enthusiastic design is contagious.  Sure enough, a friend loved Merrilee's Bryker Woods remodel, so she asked Merrilee to help redesign the home she shared with her own husband and growing family.  One thing led to the next, and Merrilee helped renovate her friend's home, including sanding and painting the kitchen floors with high gloss paint to make a chevron rug.  Images of this painted rug went viral on Pinterest, and so did Merrilee's interior design career.  She's now a sought-after Austin interior designer, working on both personal residences and commercial spaces.
When we visited Merrilee explained that her goal is to get to know what your life is all about and reflect your best self in the interior design of your home – even if you have children.  As a mom to a 4th grader and 1st grader, Merrilee knows first-hand the challenges that come with designing a home that is both functional and beautiful when you have young children.  But take heart, it can be done.  Here are Merrilee's 10 tips for designing a stylish home to share with your young family:
Fabric choice is key. If you have children (or pets) it is important to select quality fabrics with 50,000 or higher "double rubs."  While pricey, mohair (a long, silky fabric made from the sheared hair of the angora goat) can be a great choice; it's luxurious but it also wipes off easily.  Vinyl and faux leather are other great choices.  These materials are more durable and better able to handle the wear and tear that comes from kids climbing all over the furniture.
The color of the fabric is also important.  Darker colors or strong prints in stain resistant fabrics can be a life-saver for a family with children and/or pets because they hide dirt and spills.  But if you *insist* on white linen, Merrilee suggests trying an outdoor fabric line like Perennials.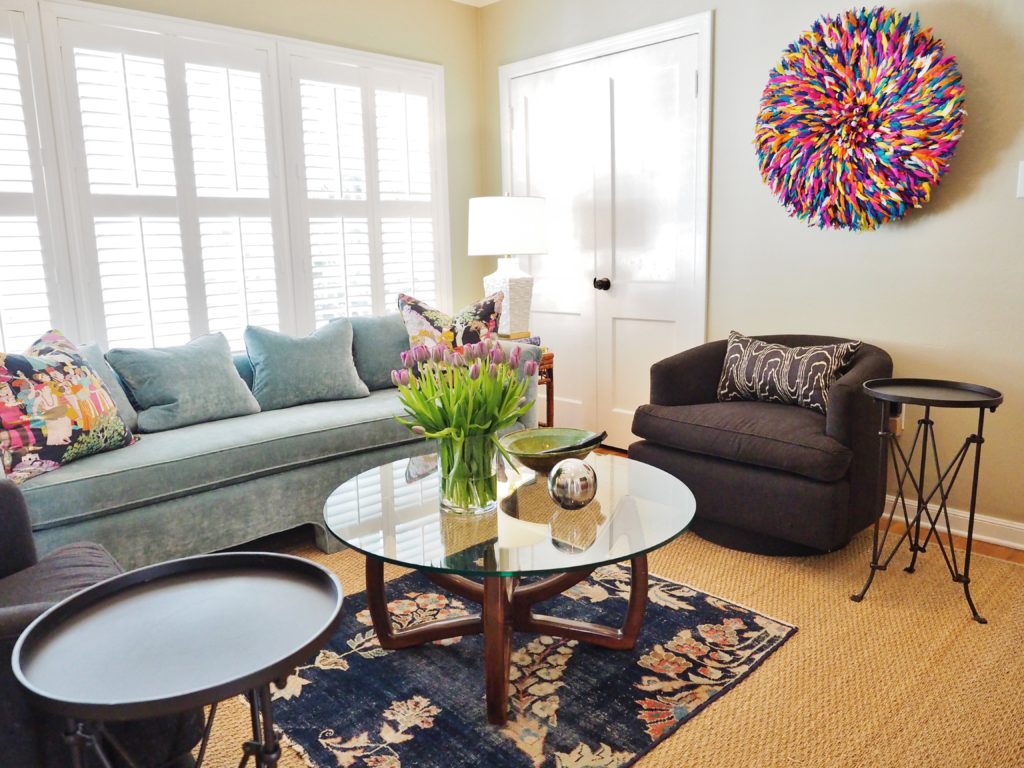 Prepare for spills (and more) before they happen. Spills are going to happen.  But you can combat stains by taking steps to protect the fabric in advance.  Merrilee suggests that once you find a durable fabric you love, have it treated to seal the fabric fibers and protect it from stains.  You can even send your fabric off to be sealed to make it completely waterproof.  Merrilee did this for one of her clients who had several young boys that didn't always have the best aim when they went potty.  To fix this problem, they had the bottom portion of the shower curtain sealed to protect it from accidental splashing.
Have a bed wetter?  White sheets are classic, and they can be bleached.  And if you're in the sippy cup stage (they ALL leak), you can play defense by having a seamstress sew a waterproof mattress pad to line your seat cushions.  This way you preserve the inner cushions from serious damage.  And no one knows they're sitting on a waterproof cushion.  Genius!
Pile on the pillows. For a quick and affordable way to add some 'pop' to a room, Merrilee recommends buying patterned and bold pillows to accentuate your couch or other furniture.  You can find awesome pillows for less than $50 at stores like TJ Maxx, Steinmart, Target, and more.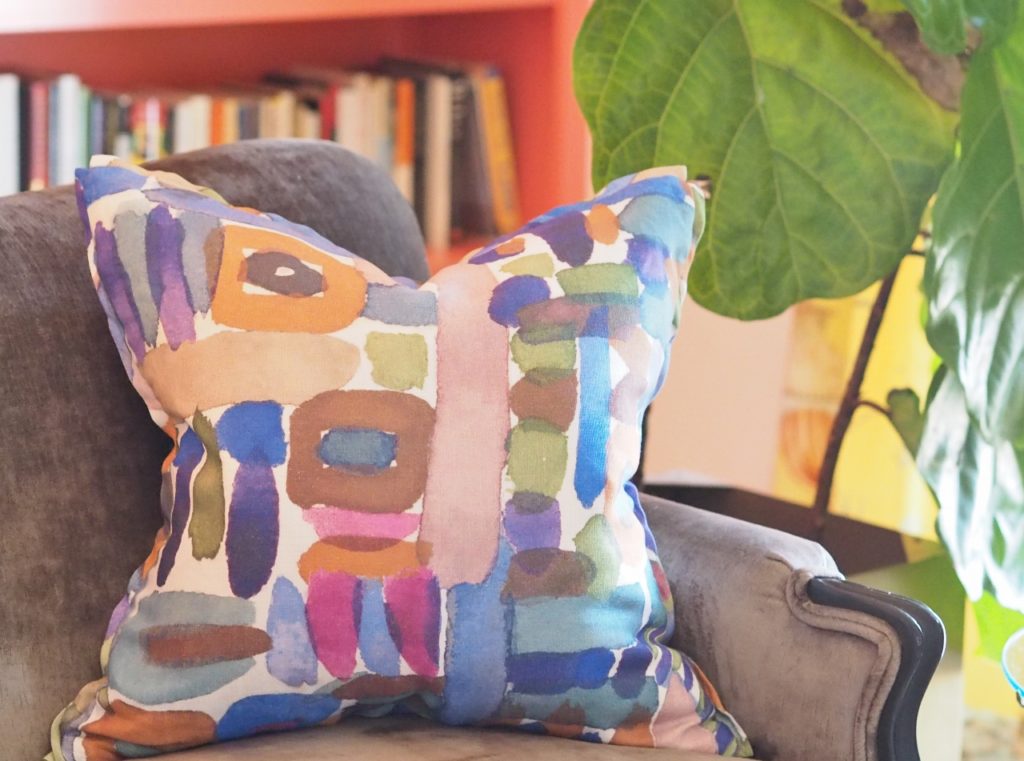 Choose forgiving paint. Kids touch everything, whether their hands are clean or not.  To save yourself some heartache Merrilee advises families to use an eggshell finish on their wall paint.  While walls painted with a flat or matte sheen look great, they are much harder to clean.  Everything sticks to them.  If you doubt it, I invite you to come look at my smudged walls some time…  In contrast, an eggshell finish has a slight sheen and is extremely washable without harming the surface of the wall.  If you're feeling bold or have a more modern space Merrilee suggests trying a dark paint color in a high gloss sheen; it's very current and high design.
Connect colors. To improve flow between rooms Merrilee advocates finding subtle ways to connect colors from space to space. Maybe it's a wall color, fabric or accent that is carried through from one room to the next; regardless of how you do it, connecting the colors in some manner will visually tie your home together so that it feels cohesive and polished.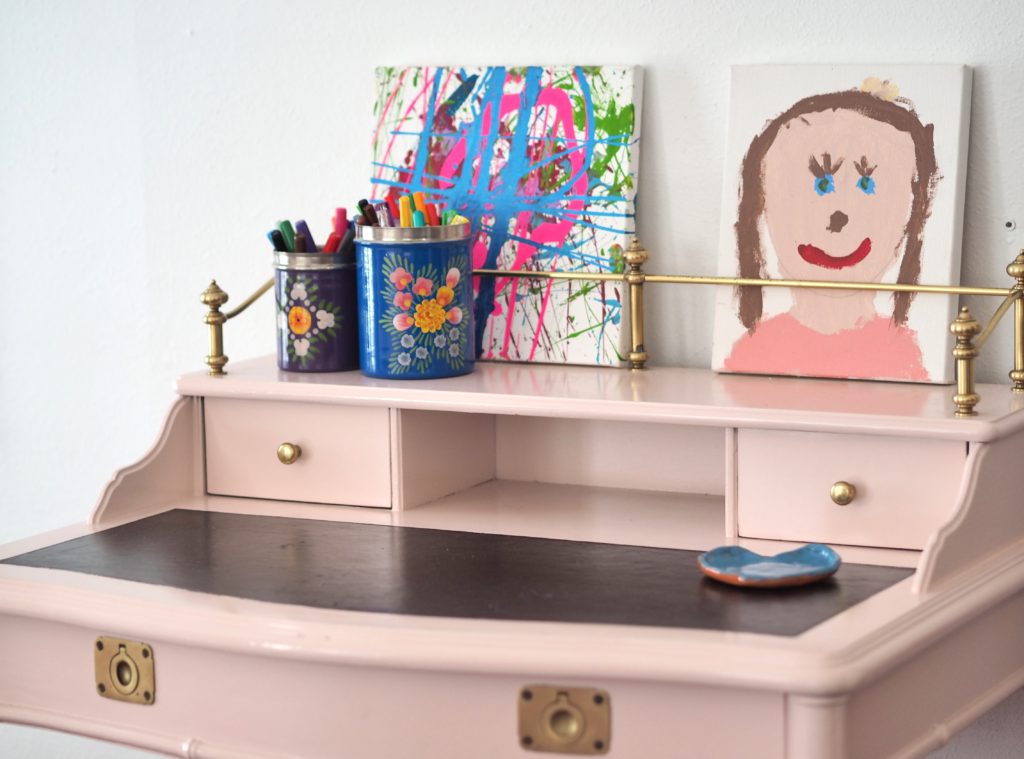 Don't get too attached to your rug.  Rugs get a lot of wear and tear, even more if you are a family with children or pets.  Merrilee loves seagrass rugs because they are inexpensive and great at hiding dirt, but she speaks from experience when she says red wine will permanently stain.  If you are worried about spills, Merriliee suggests a rug with a pattern instead.  You can even layer a smaller patterned rug on top of the larger seagrass one to get greater coverage like Merrilee did in her family room above.
But hold off on investing in an expensive rug while your children are young.  Instead, buy something affordable at Rugs USA or somewhere similar with an understanding that you will replace it with a higher quality piece when your children are older.
Clutter control. Less is more when it comes to toys.  In Merrilee's experience the fewer toy choices you offer, the more likely the children are to play with the toys they have.  To help control toy chaos, or 'toy creep' as I call it, provide lots of baskets and bins with lids.  And make it a habit to have the children pick up toys and put them back in the bins.  If your space allows, it can be helpful to have purposeful built-ins so that everything has a place of its own.
Dial down the Disney. Dora, Superman, and Pokémon all have their place but they don't have to dominate the room.  If your child is in love with a cartoon character, you can put character sheets on the bed beneath the coverlet.   The same goes for primary or babyish colors.  Does you child want a bubble gum pink wall?  Pick something further down on the paint card that's in the same color family, but less garish.  Your child wins, and you do too.
And while you're at it, another one of Merrilee's tricks is to have the coverlet cut and sewn at the corners so that all a child has to do is pull it up to make the bed snug and tidy.  I'm doing this one ASAP!  Maybe even for my own bed!  Ha!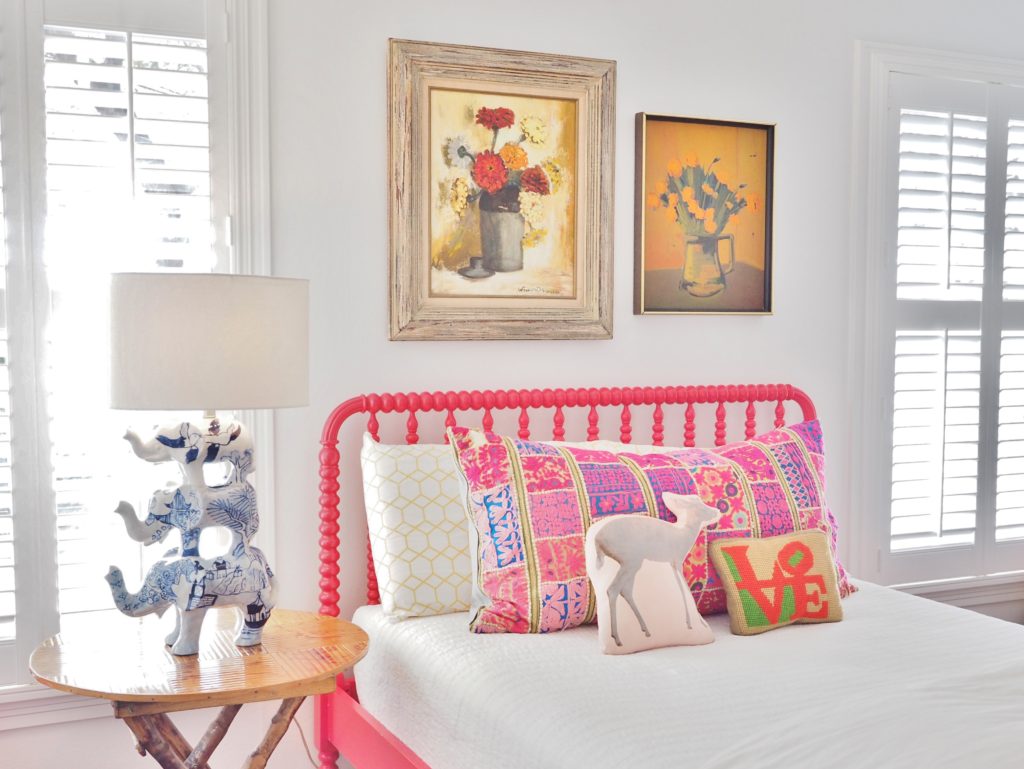 Carve out space for yourself. Survey your home and find a space you can carve out for "adults only."  Whether it's your bedroom or a small sitting area, find an area for yourself and include a few cherished objects that you love.  This is your refuge where you can go and recharge.
Delay your expensive purchases. Kids will be out of the sticky, messy phase before you know it.  Until then, hold off, if you can, on making any significant furniture or décor purchases.  The time will come for that hand-carved antique or fragile vase.  In the meantime, pop some color in your rooms with an acrylic or lucite light fixture that is less likely to break if it gets knocked over.
So many wonderful and practical interior design suggestions!  You can see Merrilee's mood board of ideas below; you'll want to pin this one for sure! If you're stuck and not sure how to add some sizzle to your own home, I encourage you to check out Merrilee's work on her website at www.merrileemcgehee.com.  She's creative, she's fun, and her design is not so 'precious' that you can't live in your own home.  Promise me you'll send me pics of your completed project, okay?  It's like eye candy for my soul!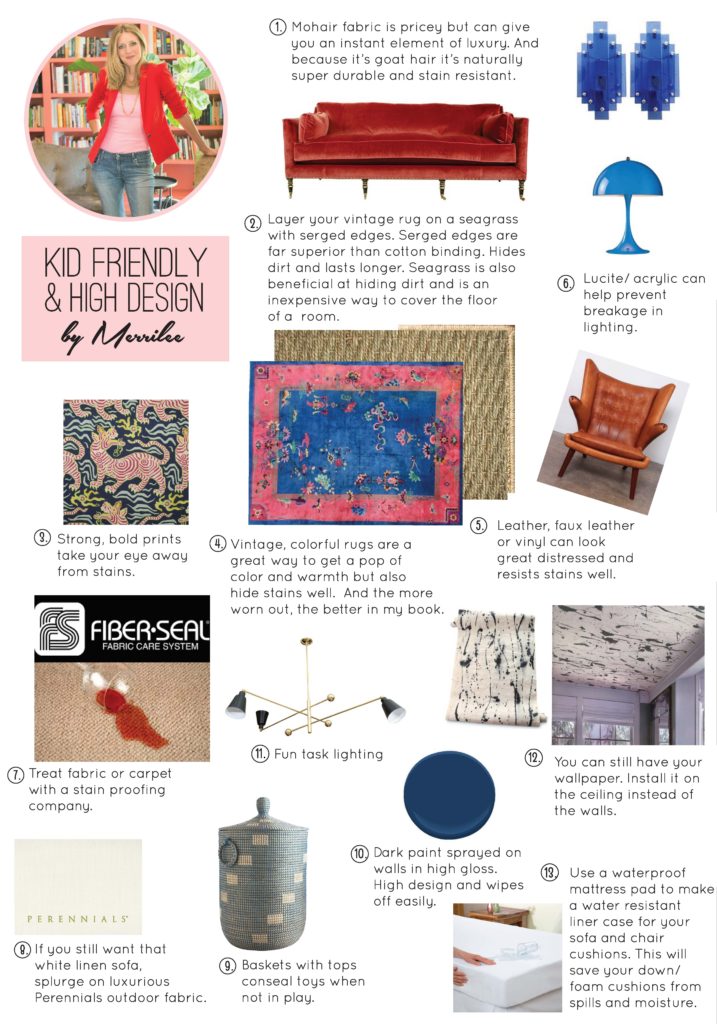 © 2017  |  A Life More Beautiful
This article was originally published at Homesville Real Estate.  You can check it out at here.