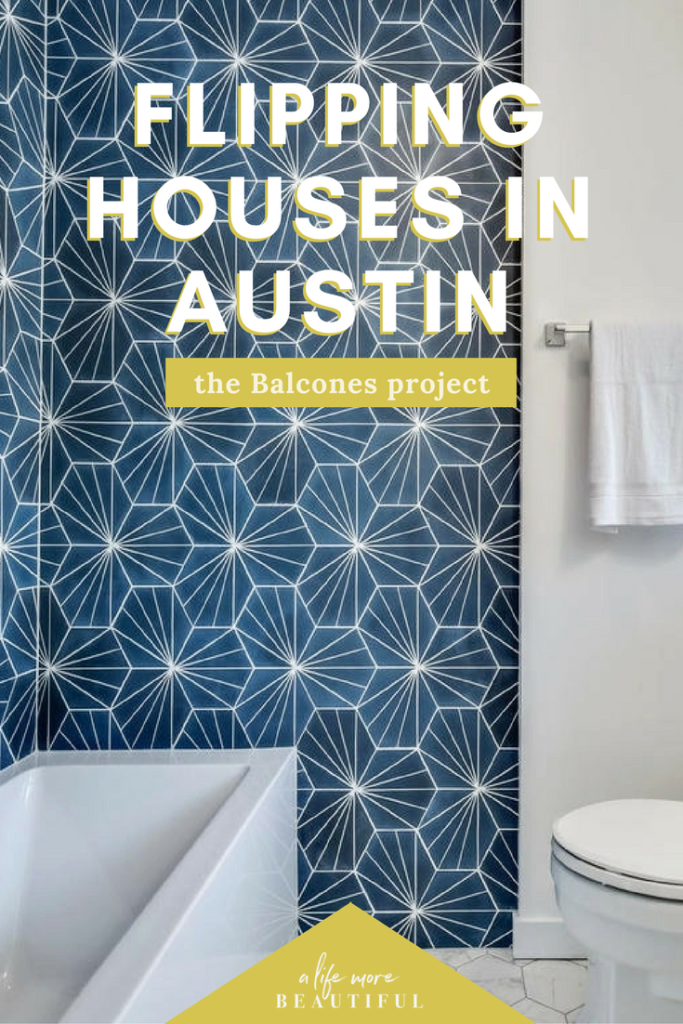 Once upon a time before I had children, I remodeled and flipped houses with my husband.  I always enjoyed the puzzle of it, and even more so the process of transforming a distressed property into a beautiful space.  I would immerse myself in those projects for hours at a time, surrounded by piles of paint chips.  It was my happy place.
Once the kids came along the focus of my free time shifted to them.  And with less free time — and the new money pit known as daycare — we had to put flipping houses on pause.  It was a long pause, and I missed it.  So when I left the practice of law in January 2016, it wasn't much of a surprise that flipping houses was at the top of my list of creative projects.  I had time, I had the energy, and I was ready!
Patience pays off when flipping houses
Eager to start flipping houses, I bugged my husband Paul about it regularly.  After all, he is the Austin house finder extraordinaire!    But the circumstances weren't right.  The hot Austin real estate market meant there were limited 'deals' to be found.  And with our shift to one income it wasn't a good time to make a risky investment.  We needed to be able to feed the children after all…
And so I waited.  Not patiently, no, that's not my style.  I'm a ball of frustrated energy when I don't get something I want.  But a year and a half later, Paul started talking to me about condo deals he was finding.  Ah ha!  This was a sign he thought we could bear the risk.  Yeah!  While I preferred a house over a condo, at this point I was willing to take anything I could get.
What to look for when flipping houses
We began to look at properties here and there.  As a general rule we want properties that are (1) undervalued or overlooked (2) don't show well, (3) in appreciating neighborhoods (4) where we can get a decent return on our investment.  And because we don't like to put lipstick on a pig, we want to be sure it's a project where we can really add value and make the property more attractive to potential buyers.  (Learn more about our process for choosing a flip house).  None of the properties we looked at met all of the criteria.
One night Paul sent me some pics of a pretty awful looking 2 bedroom, 2 bathroom condo.  And my heart started to pound.  It's just the kind of thing we look for when doing a flip.
The unit was owned by the same person for 20+ years without any updating.  Can you say D-A-T-E-D?  Dark draperies blocked one of the most outstanding features of the property – large windows and abundant natural light.  One room was so full of stuff that you couldn't even walk into it.   The structure was sound, so most of the changes would be purely cosmetic.  And the seller's real estate agent did a poor job of marketing[1] the home, with just a handful of iphone photos that were dark and blurry.  Awesome!  The property looked awful online, so that made it likely that we wouldn't end up in a bidding war.  Plus, it is in the sought-after and appreciating Highland Park West neighborhood of Austin.  We both agreed right then to make an offer.
Well, as you might've guessed, we got the deal.  But the best part was that we got it for less than the asking price even though it had been on the market for less than a week.  Kudos to my husband for another great real estate negotiation!  And so our latest house flipping journey began.
Location, location, location
Aside from the price and condition of the property, the condo's location was one of the major selling points.  Ideally located in the heart of Central Austin near the intersection of 2222 and Mopac, it is only ten minutes away from downtown, the Arboretum, and the Domain.  You can literally walk to meet your friends for dinner at Chez Zee, treat yourself to yogurt at Berry Austin, pop into Peony next door for Chinese take-out, or pick up some pastries at Russell's Bakery.  It's , grab a coffee at Starbucks, shop for groceries at Randall's, or stretch your legs at Perry Park.
And while this home is close to it all, it feels like an urban hideaway.  Tucked back from the road in a secluded community of only 51 units, the home is nestled on 4.245 acres dotted with heritage oak trees.  Each building faces a central grove of majestic oak trees centered around a junior-sized Olympic swimming pool.   I spent many hours working by the pool and listening to the birds during the remodel.  It's really a beautiful and peaceful setting.  I especially love that the windows in the home overlook the treetops so that you feel like you are in your own private treehouse.  But I digress.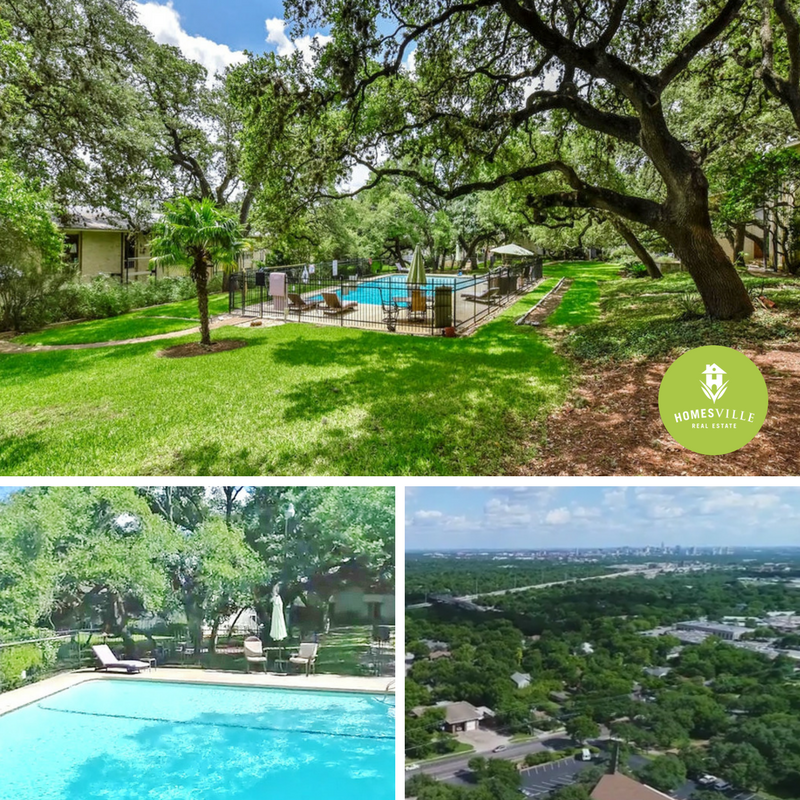 Be prepared to start work when the sale closes
With the house under contract, the real work began.  Inspections, meeting with contractors, sketching plans.  And lots and lots of late nights on the computer picking out finishes and creating the design boards.  That's my favorite part.  <wink>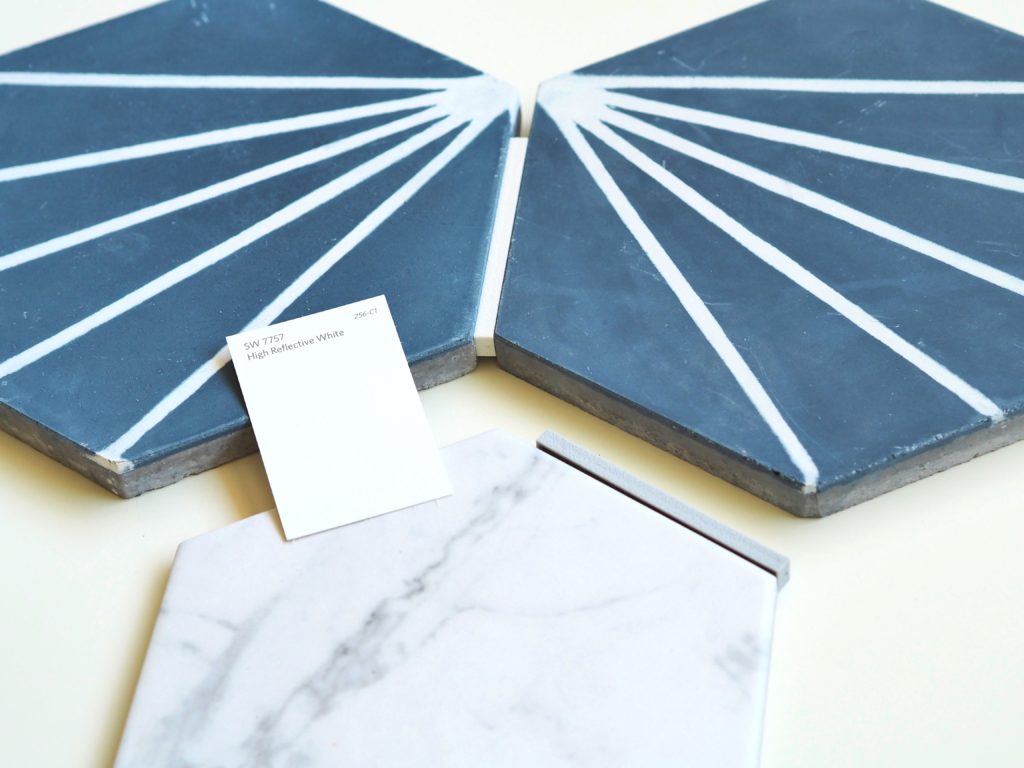 When flipping houses we want to be ready to hit the ground running once we close on the property.  After all, the property is costing us money every day we own it.  Fortunately we were able to line it all up so that demo began the day after our closing, and from there we rocked and rolled.
We had a great crew led by John Edmond, and by May 25th we were ready to go on the market.  The only problem was the timing.  With it being Memorial Day weekend we couldn't get our professional photographs and video done, and we had a family trip scheduled the week after that.  So contrary to our own advice, we held the property a little longer and pushed our launch to June 8th.  Now that the project is complete and I'm getting a little more sleep, I am excited to show you the finished product.
The finished flip:  kitchen
The front door of the home opens into the kitchen, so it was important to make this a show-stopping space.  The original kitchen floor plan was a tiny U-shape with the stove top jutting out. You had to brush by it to get to the living space.  I had visions that someone would walk by and put their hand on a hot cooktop or knock off a boiling pot.  To make matters worse the range was behind the kitchen door.  And the aesthetics, well, I'll let you describe those yourself when you see the before photos.
In an effort to enlarge the space and make it more functional, we removed the cabinets that were jutting into the room and co-opted the opposite wall to create a display cabinet and pantry.  Not only did this make the room larger, it also significantly increased the storage space in the kitchen.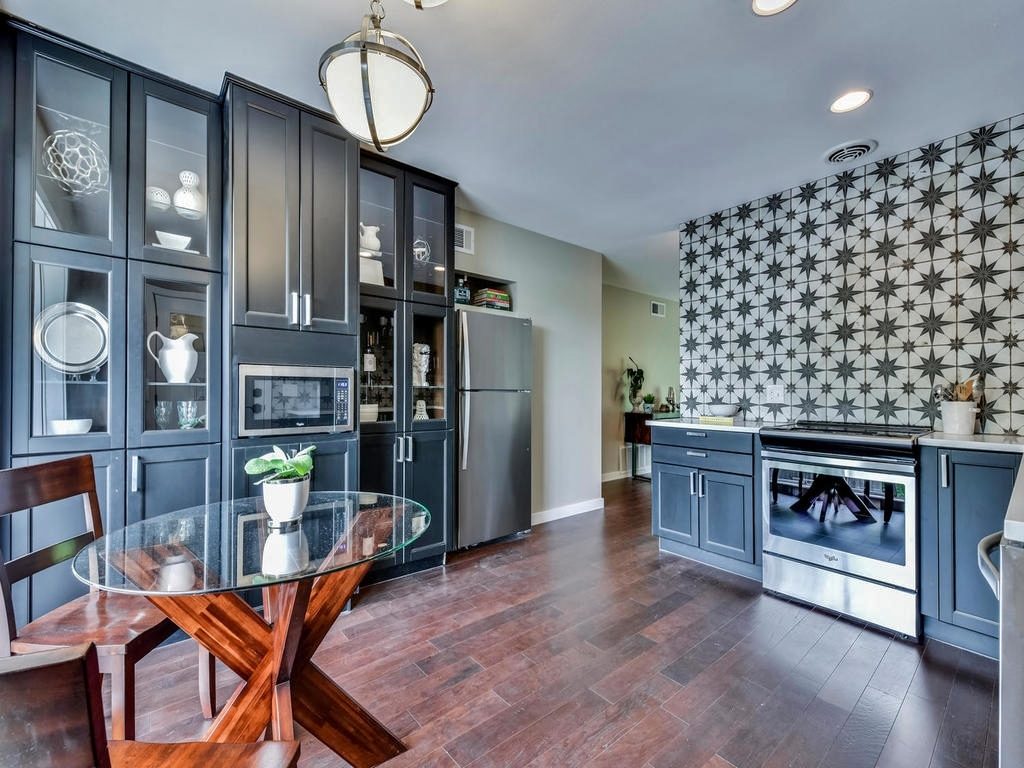 Cabinets are expensive, so I decided to overcome my fear of IKEA's kitchen planning center.  I spent four hours at IKEA designing the cabinets on one of their computers.  While it was exhausting, I will definitely be able to do it again.  I came out with a receipt taller than me and an order for a full set of Laxarby espresso cabinets.  Woo hoo!  The price was so right that I went ahead and bought IKEA cabinets for the guest bathroom too.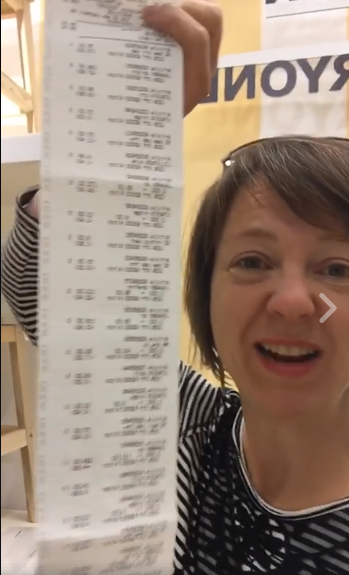 In most flips I typically try to appeal to the masses with basic and universally appealing design.  Since this was my first project in ages, Paul encouraged me to do something different and really express myself.  I'm so grateful he had confidence in me and let me take some risks.  That meant instead of white subway tile I could do something fun and unexpected.
I scoured my Pinterest boards for inspiration (click to check out my boards), and then I started shopping.  On previous flips I spent a lot of time going to stores and collecting samples.  Remember those were the days before kids…  This time I did most of it online.  And because of our short turn time, I didn't have the chance to order samples, which meant I was really hoping things would match!
I was pleasantly surprised to find that Home Depot had a huge selection beyond what they carry in stores, and a lot of it was fun, funky, and affordable.  With the exception of the blue marine tile in the master bath, I sourced all of the tile from there.  Plus, Home Depot accepts returns of overage tile so I wouldn't be stuck with a garage full of unused tile boxes.  However, that part proved to be more difficult than I had hoped — the wait-in-line-and-guide-the-clerk-through-it-one-item-at-a-time-over-the-course-of-an-hour kind of difficult.  Do-able, but difficult.
I ended up picking this unconventional Kings Star Nero tile by Merola for the kitchen.  To make more impact I took the pattern all the way up to the ceiling.  To offset the dark cabinets and patterned wall, I enlisted the help of AAA Countertops to install a white engineered stone counter by Viatera.  The white counter adds crispness and contrast.   I capped off the room with chrome plumbing fixtures (that's a Delta trinsic faucet) and classic half-globe pendants by Brayden Studio for a little shine.  Viola! Kitchen complete!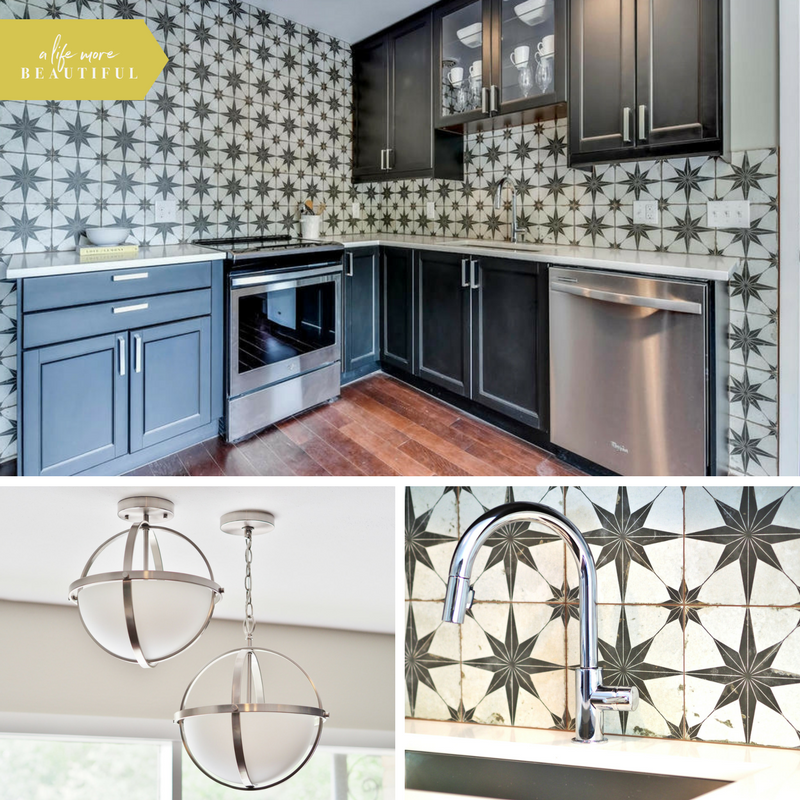 Now the space seems like it's always been this way, but a look at the before and after pictures really show how far this kitchen has come.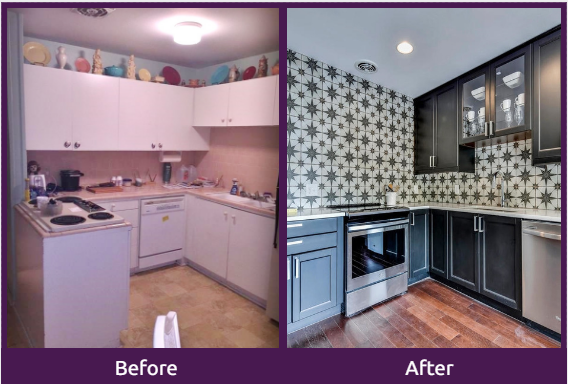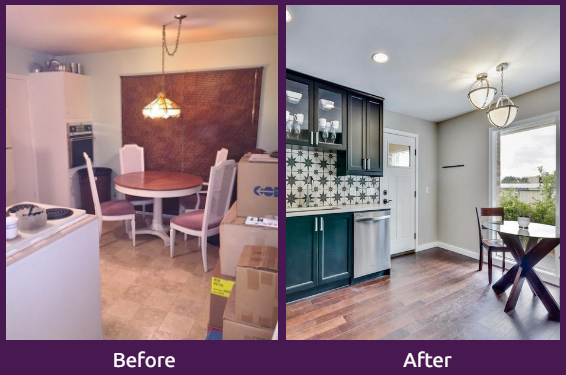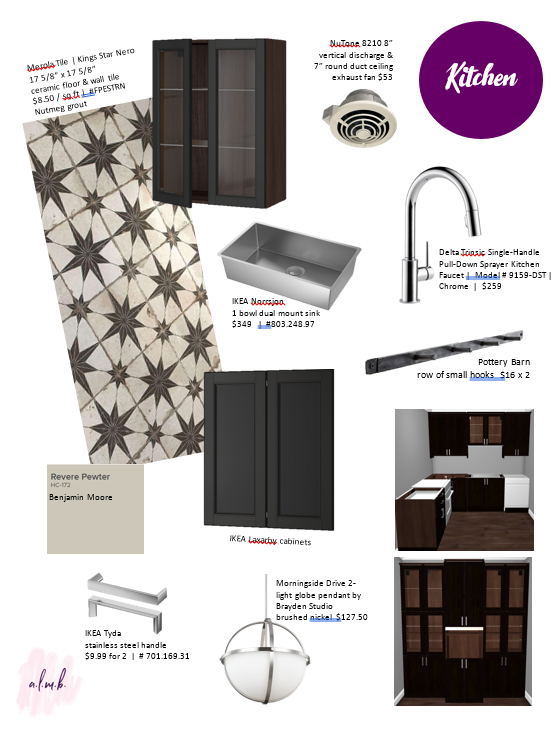 The finished flip:  living room
The adjoining living room didn't need much work.  An unfortunately-placed coat closet chopped up a nice rectangular space, so we removed it.  To give the room a little personality, we added two decorative sconces by Robert Allen.  With the help of Total Pro Flooring we installed new engineered hardwood floors in large planks to unify the entire space.  What once was a dark and dreary cave is now an light, open and flexible living space.  A fresh coat of paint also helped brighten the dingy walls.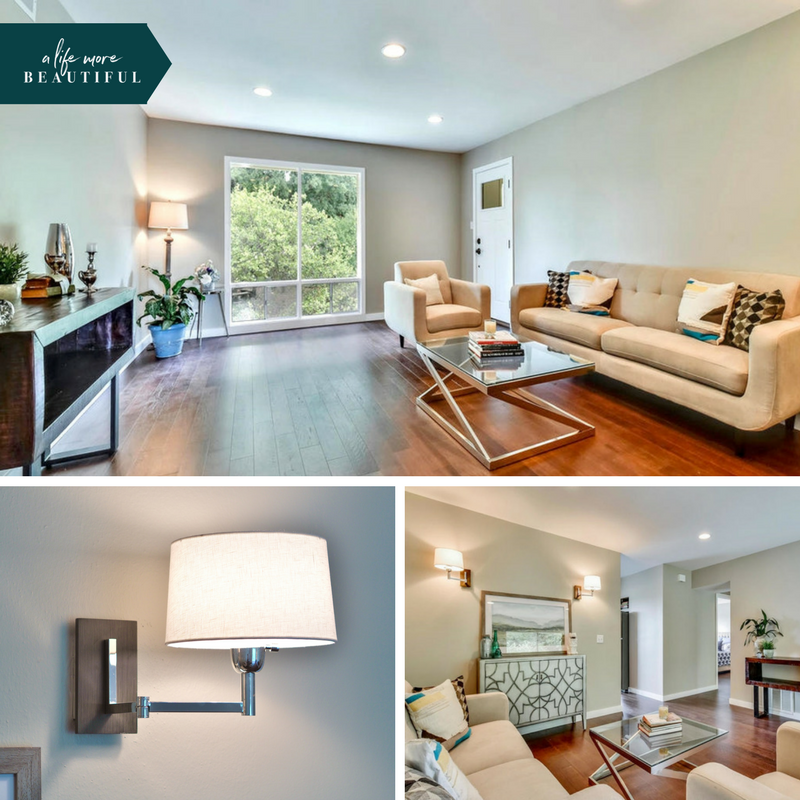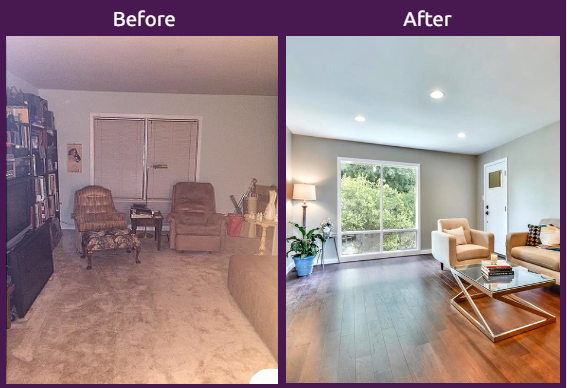 The finished flip:  guest bath
Since the guest bathroom is visible from the living room, I banished the original grey and yellow tile to the dumpster.  I replaced the tub with a walk-in shower and surrounded it with Merola Twenties Classic black and white patterned tile for some pop.  The glass shower front lets you see the entire shower wall at a glance.  The wall does double duty.  Not only does it glam up the shower, it also serves as a gorgeous accent wall that you can see from the living room.
I ordered all three types of bathroom tile from Home Depot online without seeing any samples.  Fortunately, this is one of those times where luck was on my side.  I was relieved that the large-scale charcoal hexagon floor tile and the smaller hexagon shower tile all matched perfectly with the patterned tile even though they were different brands.  Whew.
Now, I'm not a big fan of the popular brass fixtures you find in all the magazines these days, but since my target buyer is a young professional I figured I needed to give it a shot and do something on-trend.  I was pleasantly surprised with the outcome.  The IKEA  wood cabinetry and the champagne bronze fixtures warm up the space; see for yourself.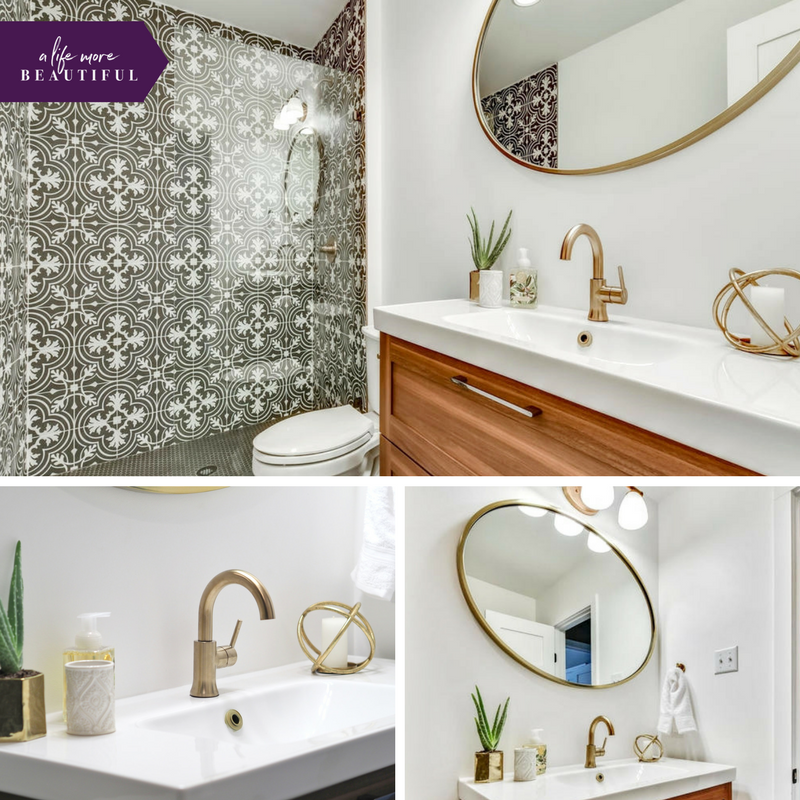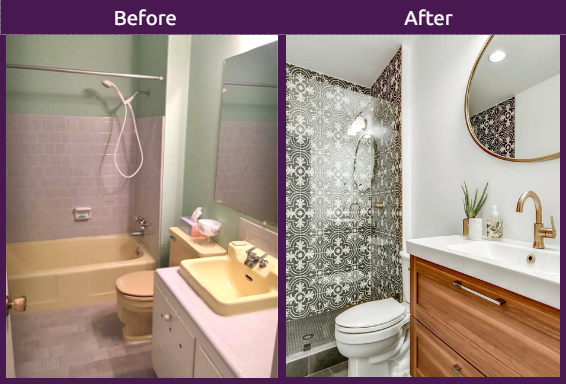 The finished flip:  guest room
Like the living room, the guest bedroom didn't need much renovating.  The light and airy space really speaks for itself.  It got a new modern ceiling fan by Quorum International and new closet doors.  And of course we freshened it up with new paint.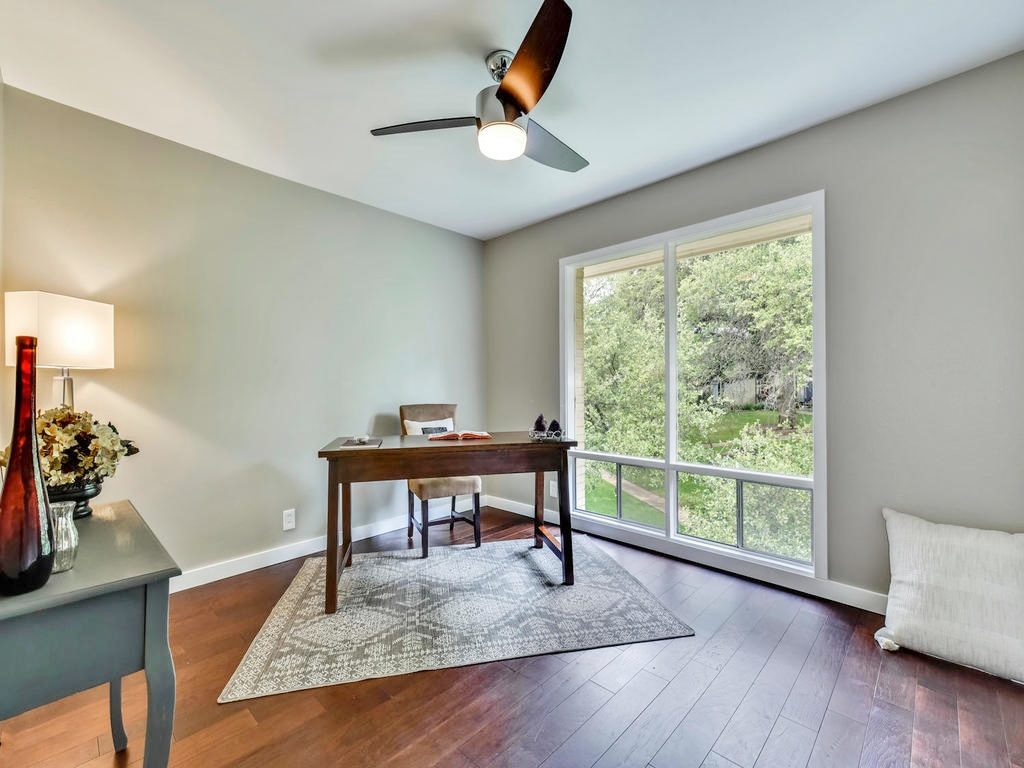 The finished flip:  master suite
The same went for the master bedroom. Clean, simple, bright, and spacious.  Done.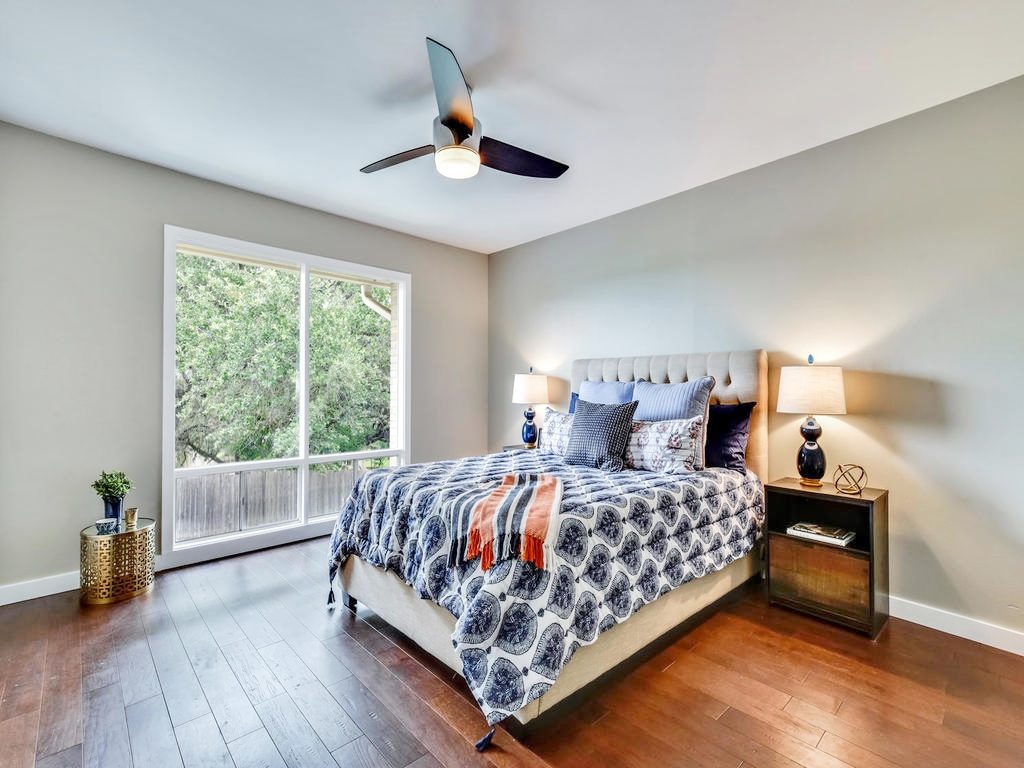 But tucked inside the master bedroom was another surprise.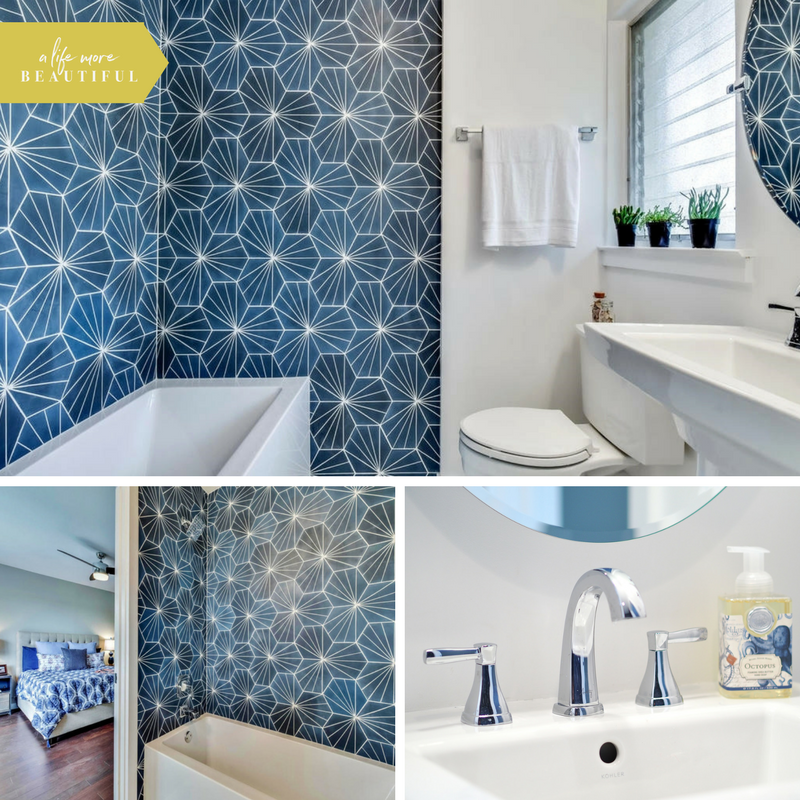 This is my favorite room in the entire project.   At $16.99 / square foot, the electra marine blue tile by Mission Stone & Tile was a splurge, but it was sooooo worth it.  I've always opted for a neutral bath space, but that blue tile that was calling my name.  I had it shipped here from Tennessee, and I literally squealed out loud when I saw it installed.   The tile guy did such an amazing job aligning all the lines that you really can't even see the corner seam.  He doesn't know it yet, but I've nicknamed him the tile wizard!
The blue tile packs a big punch, so I tempered its modern energy with classic hexagon carrara marble on the floors.  They are the perfect marriage of classic and contemporary.  The master bathroom is on the small-side, so I chose a pedestal sink to create more open space. As in the kitchen, chrome fixtures shine.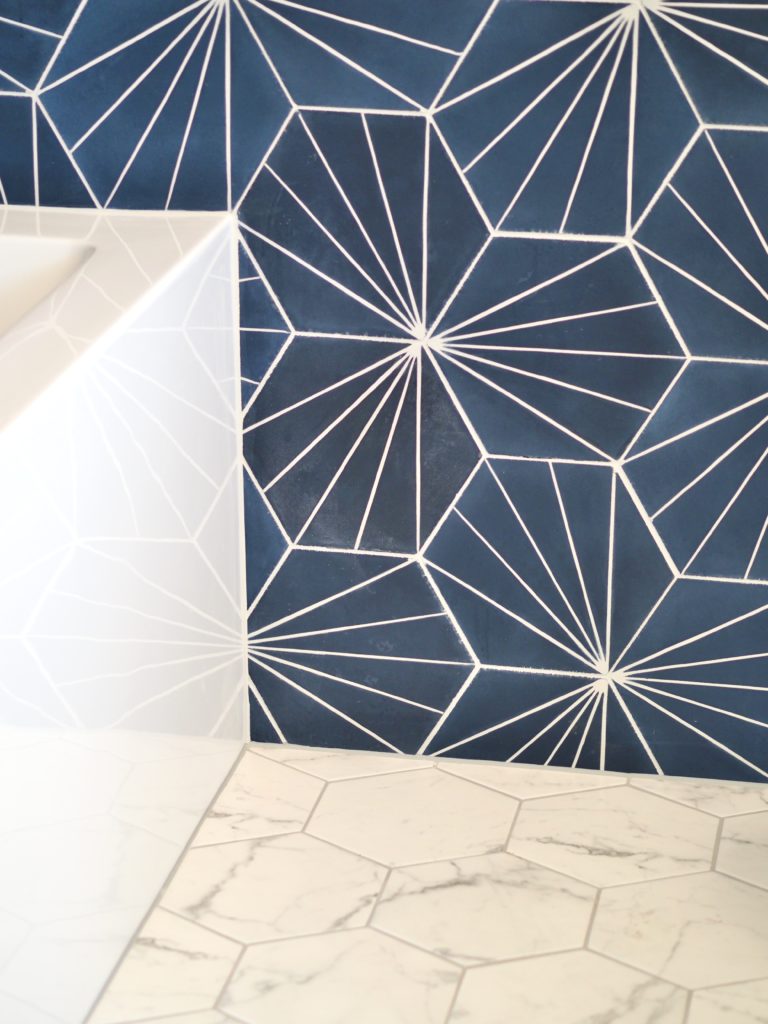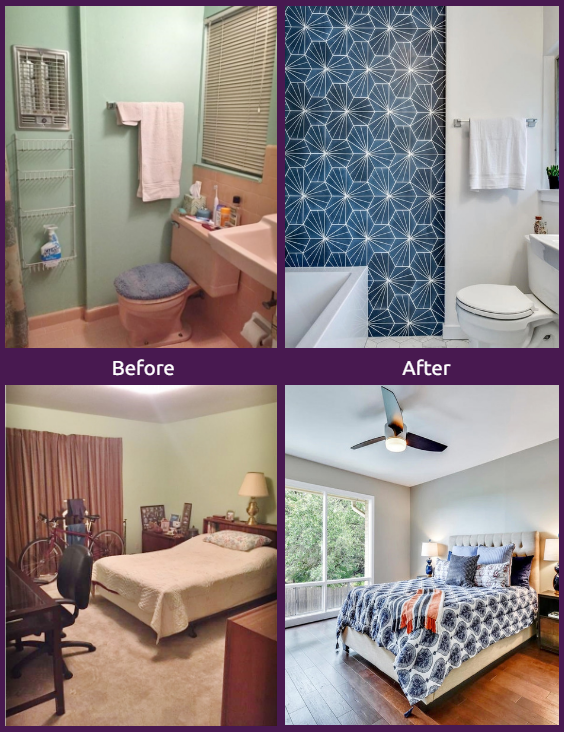 The finished flip:  exterior
Since the exterior is the first thing a buyer will see, I did as much as I could to create curb appeal.  Nothing is going to change the fact that the building was built in the 1960s.   Even so, a freshly painted door and new exterior light fixture, manicured shrubs and the addition of drought-resistant lantana in the flower bed did wonders for the previously dreary exterior.  For the entry into the unit itself, a new door, hardware, and the addition of an exterior light added personality.  We also put up shelving to make the entrance welcoming.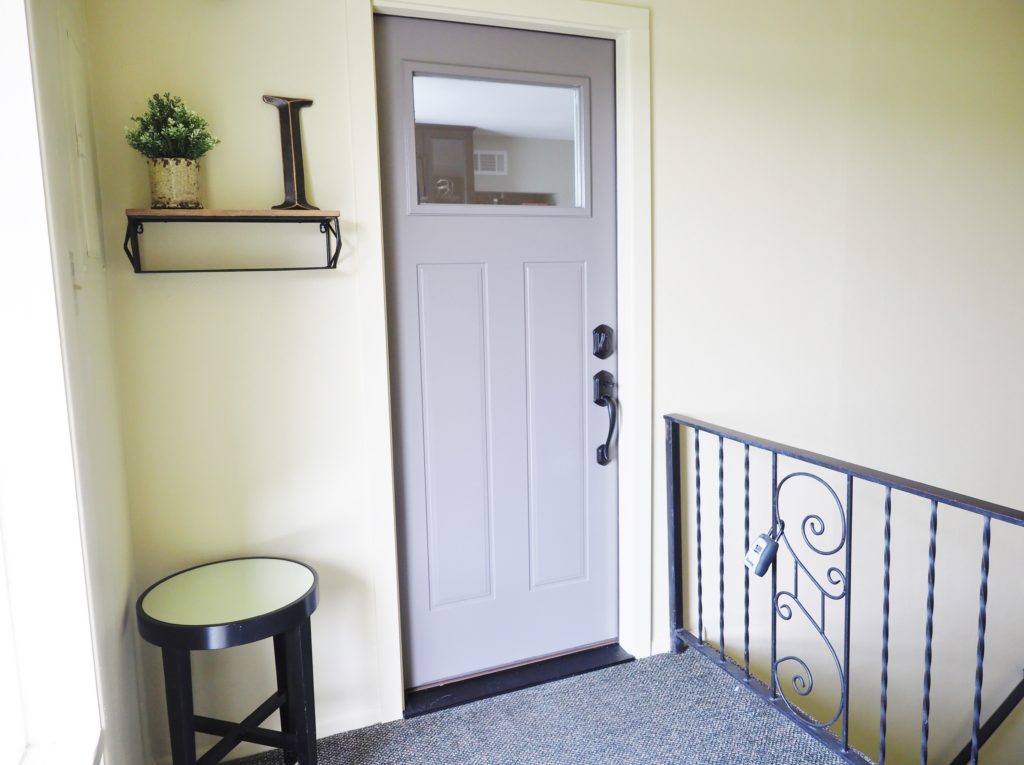 Staging helps homes sell
While an empty house often sells just fine, studies show that staged homes sell faster and for more money.  Staging helps potential buyers envision how space can be used, how they might live there, and so on.  I've considered becoming a certified stager, so since this was our own project I did the staging myself.  I rented the large pieces of furniture, borrowed some things from my own home, and purchased a few other items.  Oddly, I found all of the bedding components at different stores, but I'm loving how it turned out.  I may end up putting it in rotation at my own home.  Ha!
While I enjoy designing with existing decor, it was refreshing to tackle a project from scratch.  Nothing beats a clean slate.  Here is a sample of some of the staging work at the condo.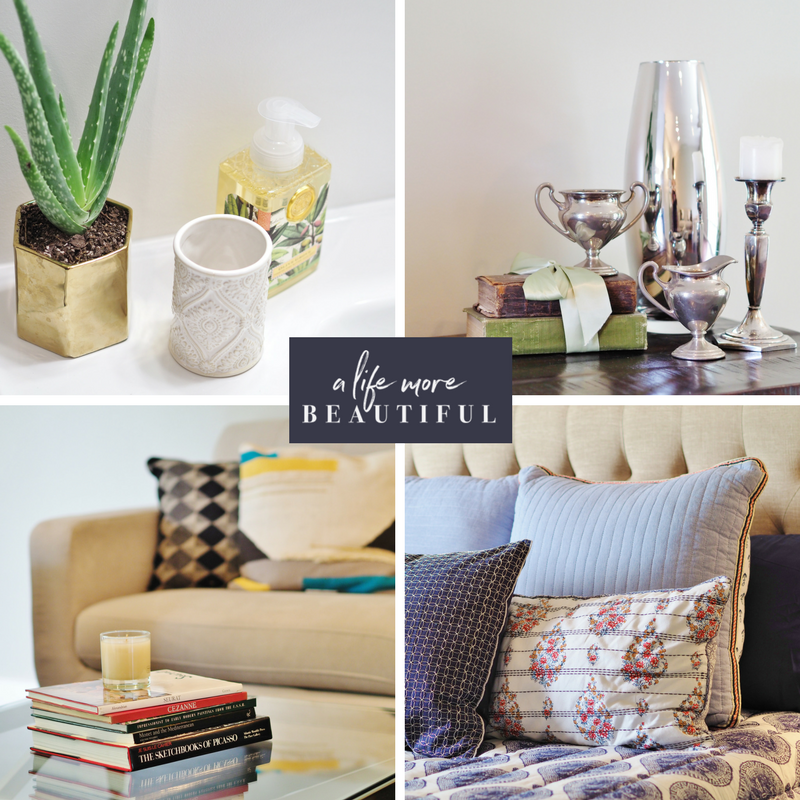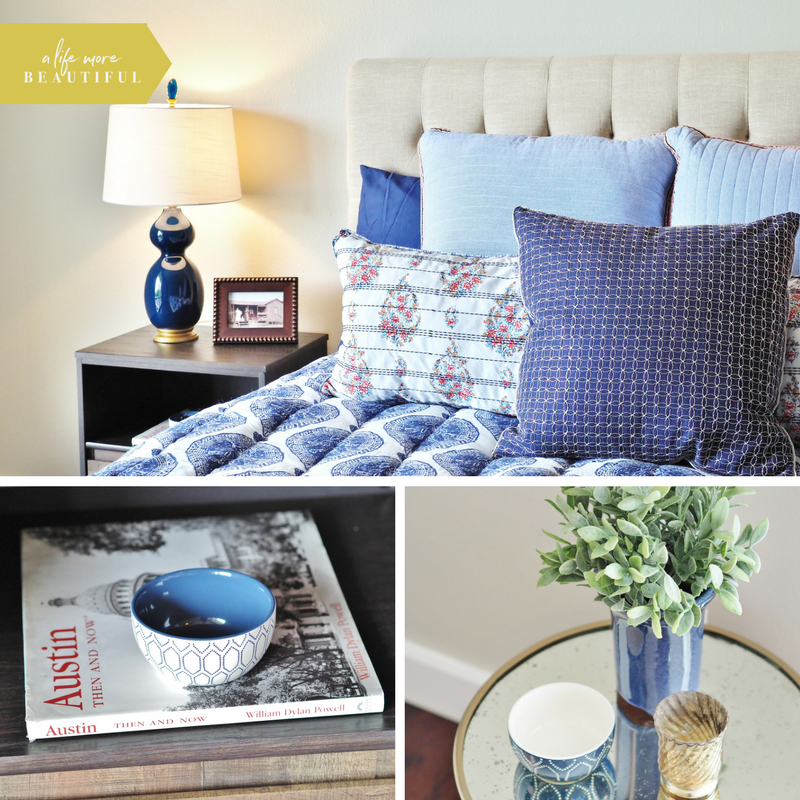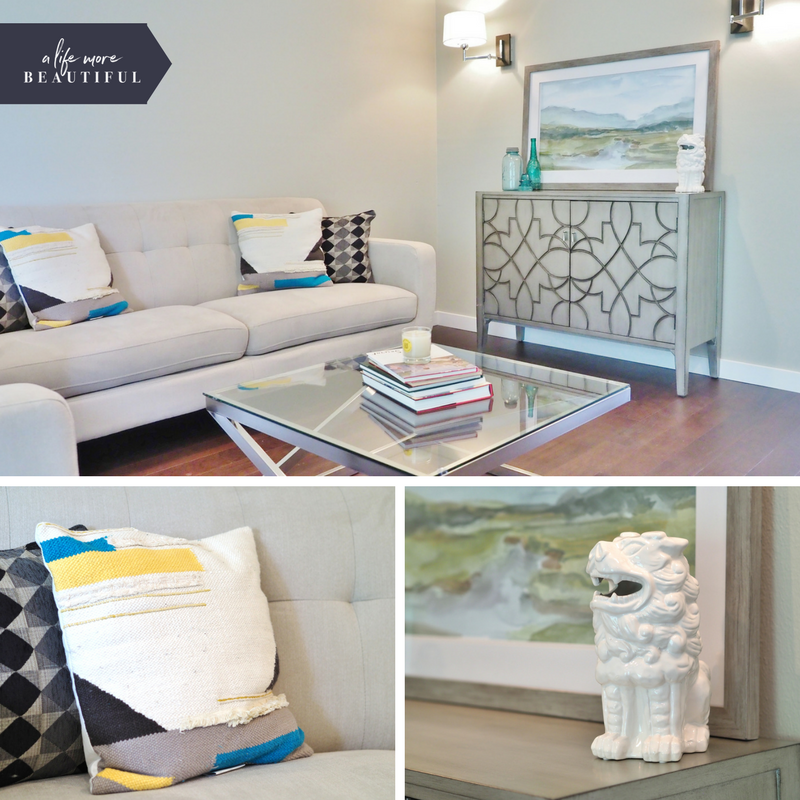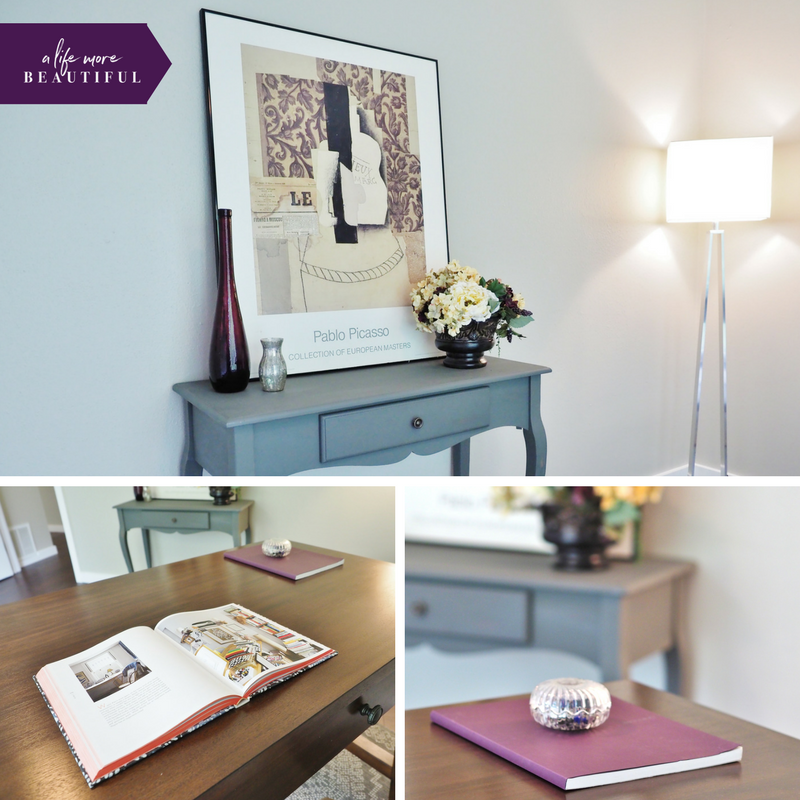 And now we wait
And that's it!  Now we hope for a buyer to come along and love the place as much as we do.  Paul and I are in a tug-of-war about selling or leasing the property.  If we don't get an attractive offer in the coming weeks we'll add this to our portfolio of rental properties.  But….that means we won't have the funds for another flip.  This project reinforced how much I enjoy flipping houses, so I'm pushing to sell.  I'd be grateful if you'd help spread the word to any interested buyers!
If you want to see more, check out the property tour.
[1]  Folks, if you are going to sell your home, find a Realtor that will invest the time and money it takes to market your home properly.  I'm talking about 40+ professional photographs, a stager, video marketing, and more.  That's standard at Homesville, and I get mad when I see other agents do a poor job for their clients.  You deserve better!
Warm regards,
Marquette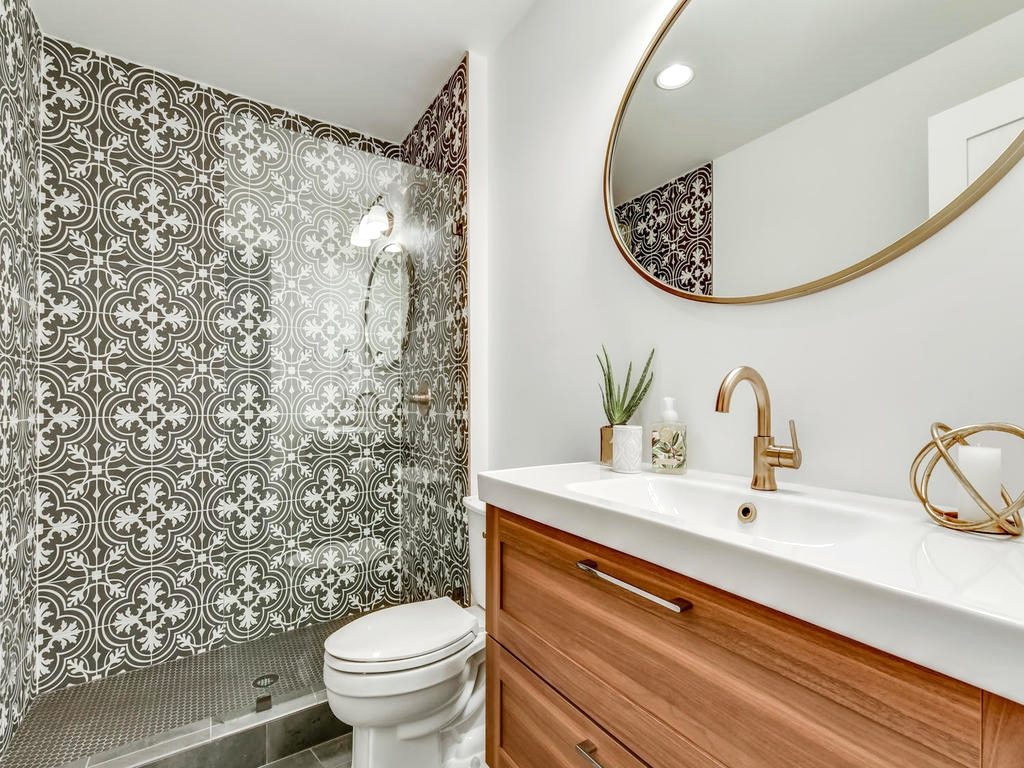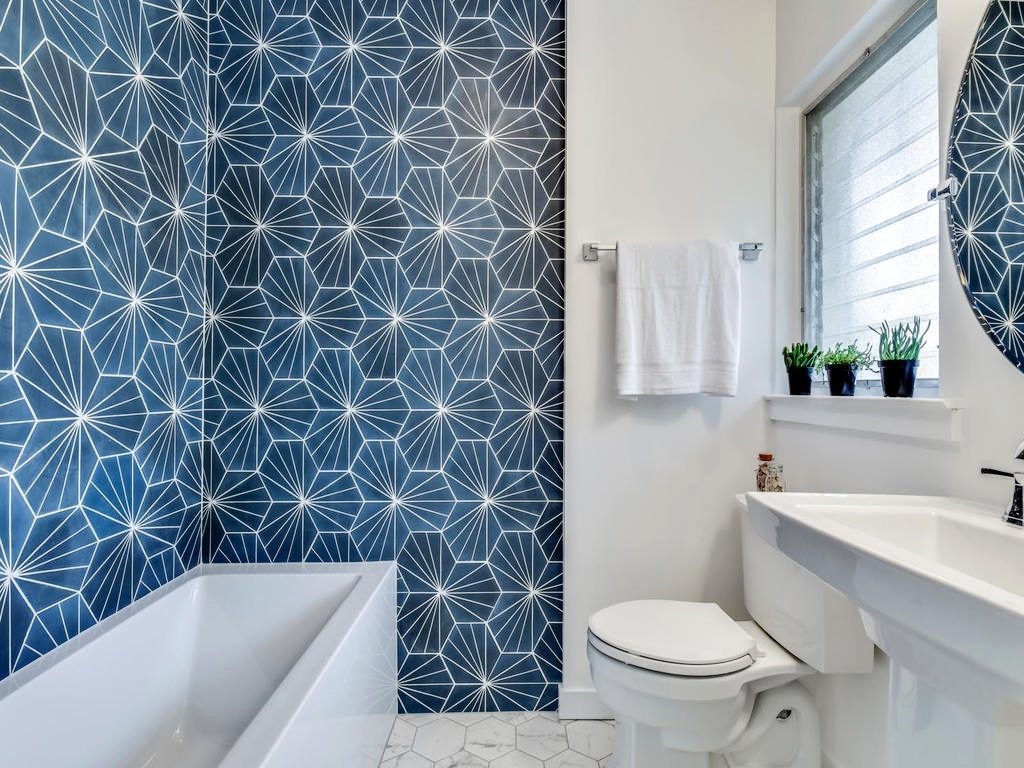 ©   2017 | A Life More Beautiful