Ahoy friends!  I've planned all sorts of different events, but I recently planned my first ever boat party.  This was a corporate client appreciation party for our real estate business, so we got to have a little fun with it.  One of our clients sent me the Saturday Night Live video for "I'm on a boat" featuring T-Pain.  How fun!  And from that the theme for the party was born!  Rockin' the boat with Homesville Real Estate.  High class trash counts as a theme, right?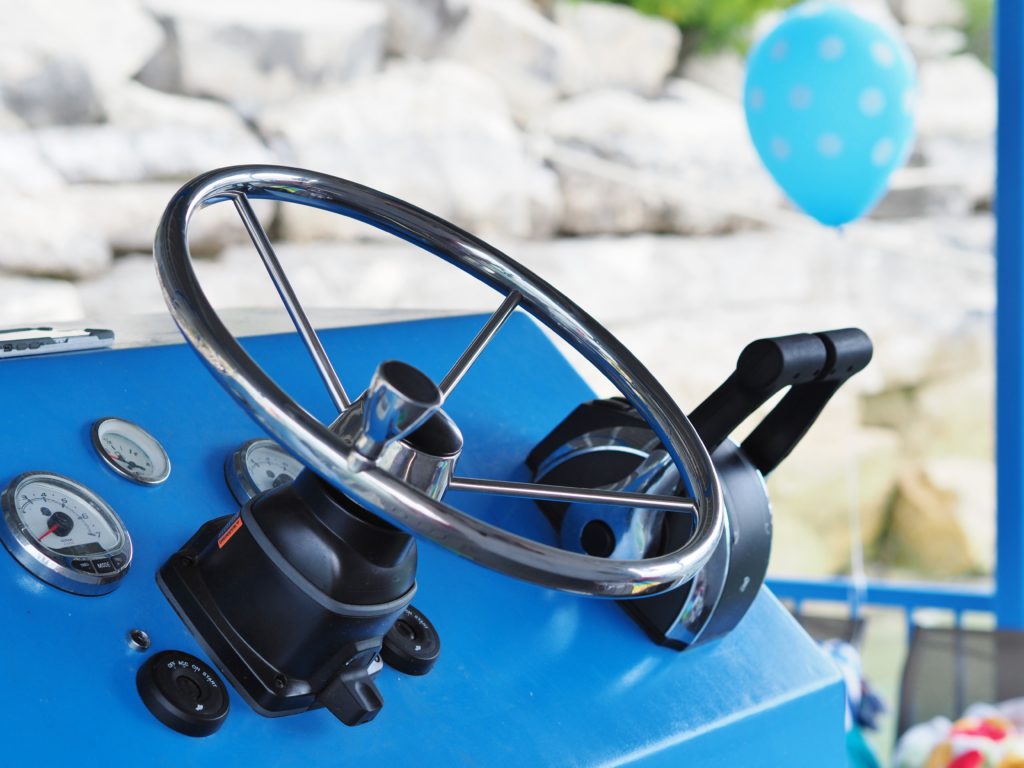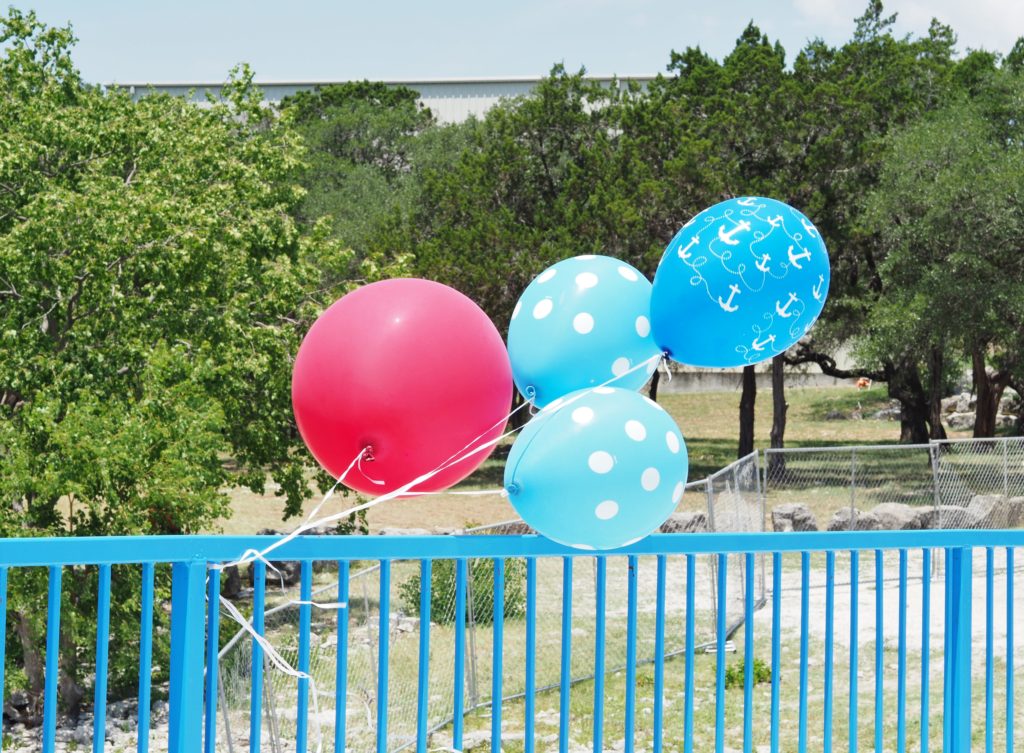 At first I didn't think a boat party would be much different than a normal event, but as I got into the actual planning there were several variables that made it a little challenging.  First off, everything had to be splash and wind proof since we were on the water.  Good thing too, because it ended up raining for part of the event!  Second, the Riviera Marina where we rented the party barge had particular rules about what you could and couldn't do on the boat.  Like no glass…  And third, the marina was 30 minutes from our house so I had to check and double check to be sure I had absolutely everything I needed since we were too far away to make any last minute trips to grab anything.
It took a little creative planning, but we pulled it off.  And we definitely ended up rockin' the boat.  Below are photos and the details.
Getting nauti
With the "rockin' the boat" theme in place, it was time to get to work.  Sometimes I'm challenged to come up with punny sayings and such for a party, but there are so many fun boat and nautical sayings that I had a hard time narrowing it down.  After some 'serious' research and a lot of laughs, I focused on a few primary sayings for the boat party:
Rockin' the boat
Feeling nauti
I'm on a boat
Let's get ship faced
Livin' large on the barge
I used these sayings on photo booth props, napkins, and plastic cups.  After all, if we couldn't have glass on the boat, we had to have a keg, right?  And keg beer meant fun cups with boat themes!  Yes!  I whipped up some designs on Canva, and sent them off to Totally Promotional to get printed.  They did a great job of turning them around quickly at a reasonable price.  I was really pleased with how they turned out.  And I'm thinking we'll be having another boat party next year because I ordered WAY too many of these!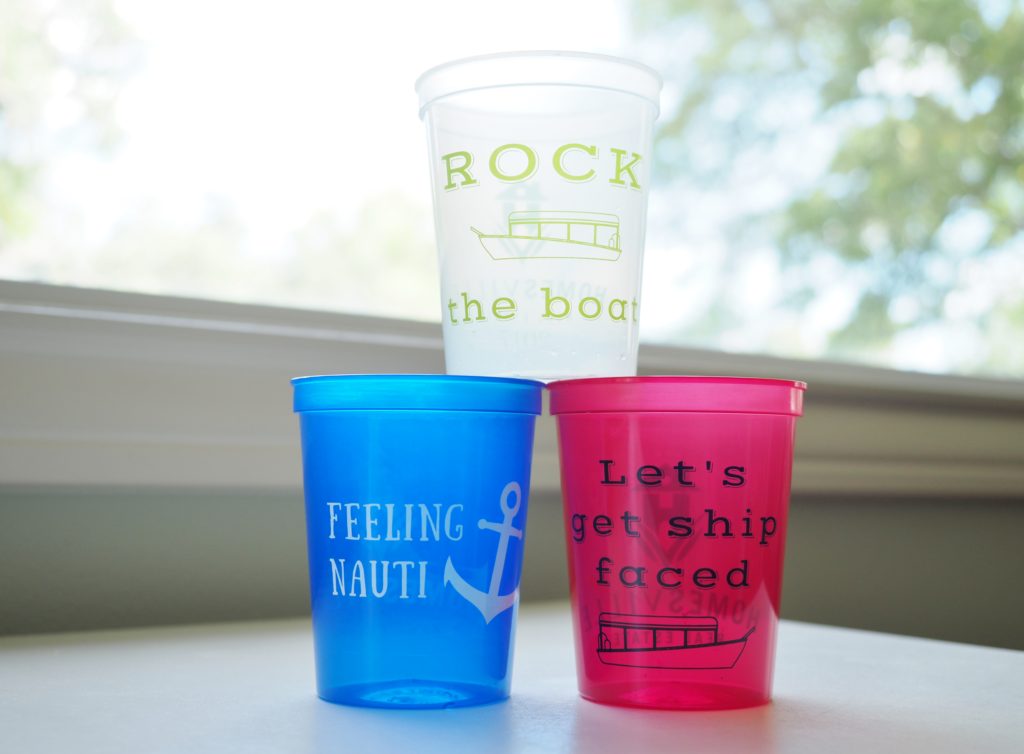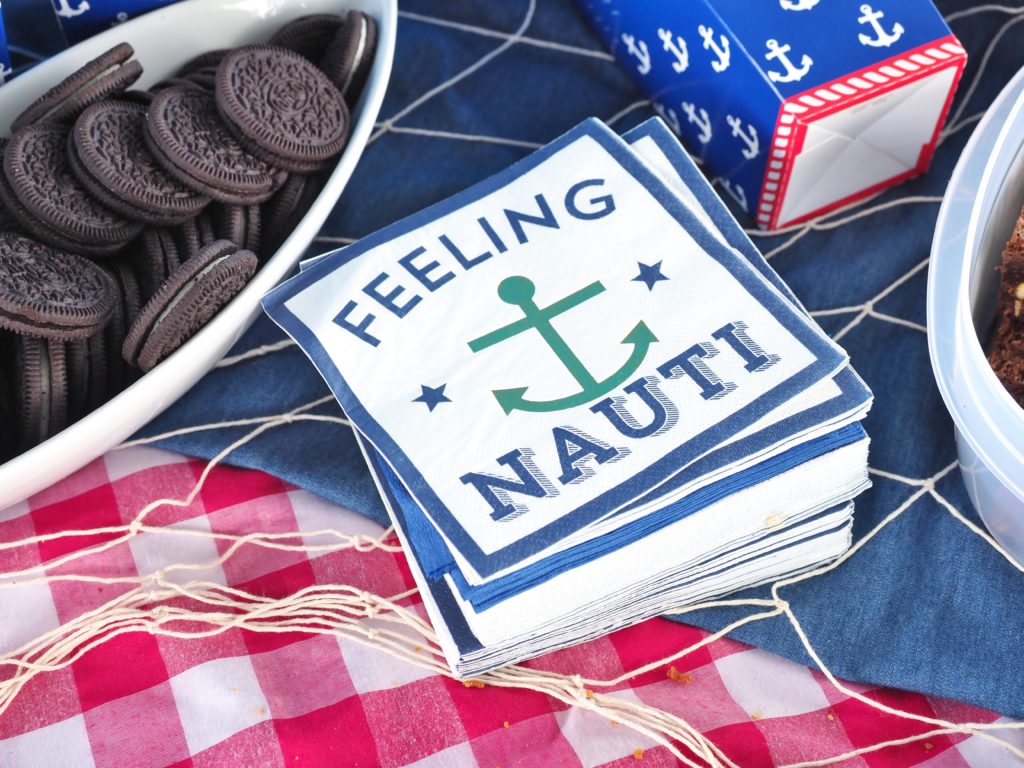 I also incorporated our nautical theme in the photo props.  I had designed an elaborate photo backdrop but NOTHING would stick to the walls of the party barge, not even my trusty gaffers tape.  So we improvised with some simple banner flags and lightweight anchor cut outs.  It turned out okay because the boat was narrow and there wasn't a lot of space to show off a large background anyway.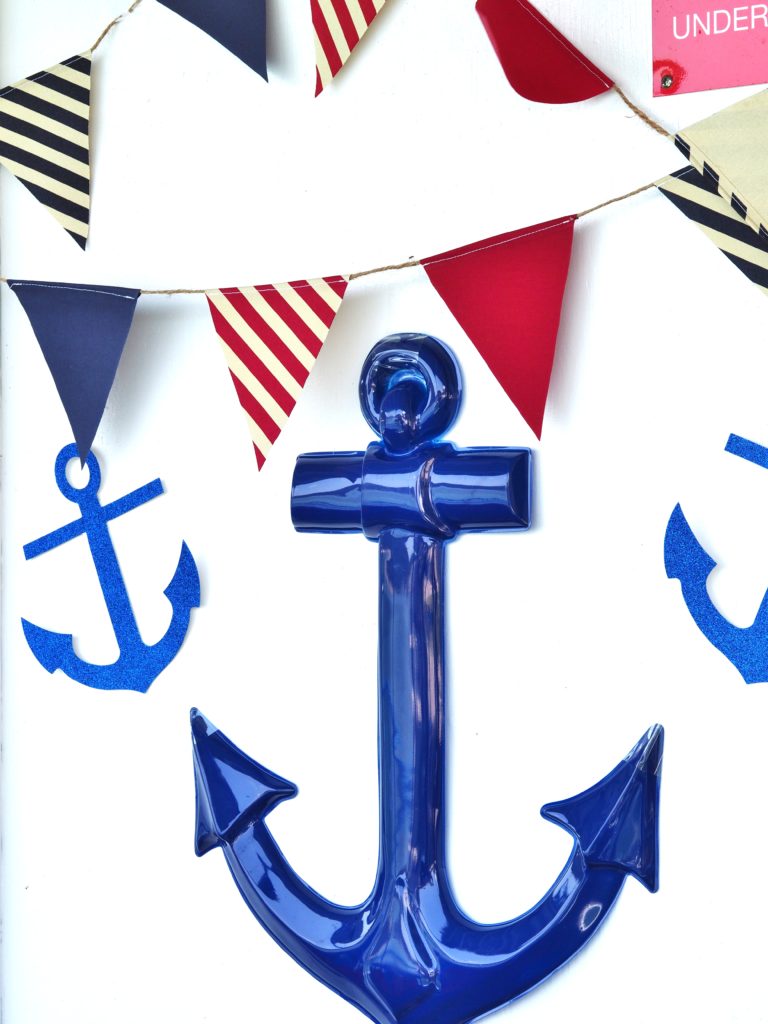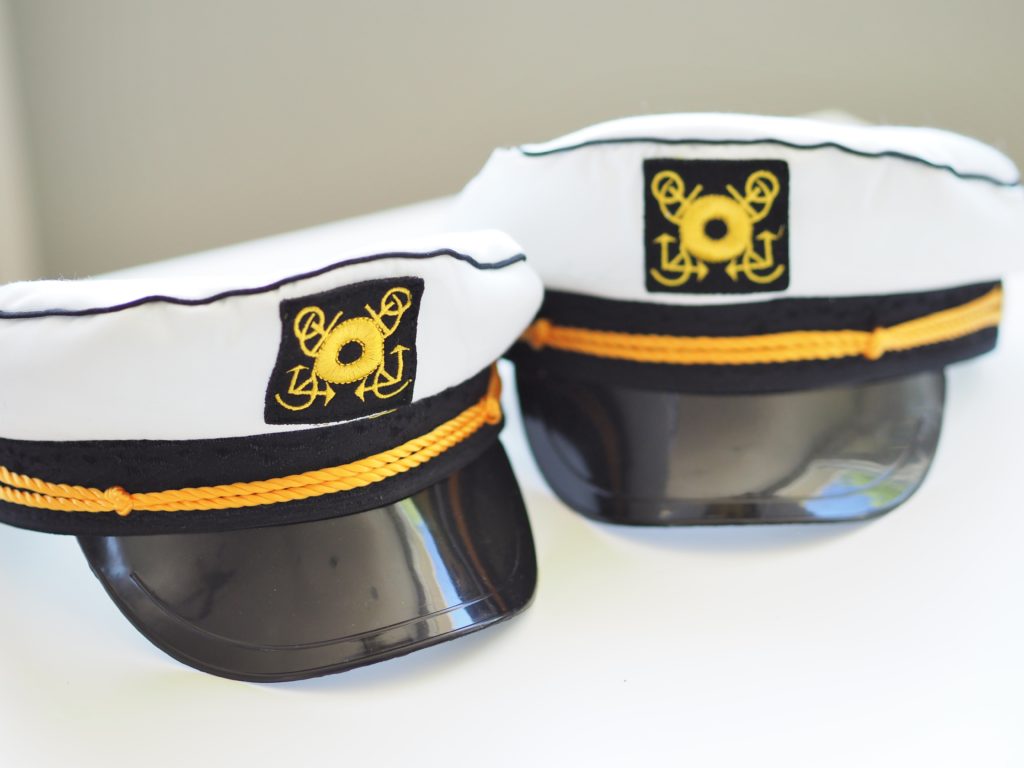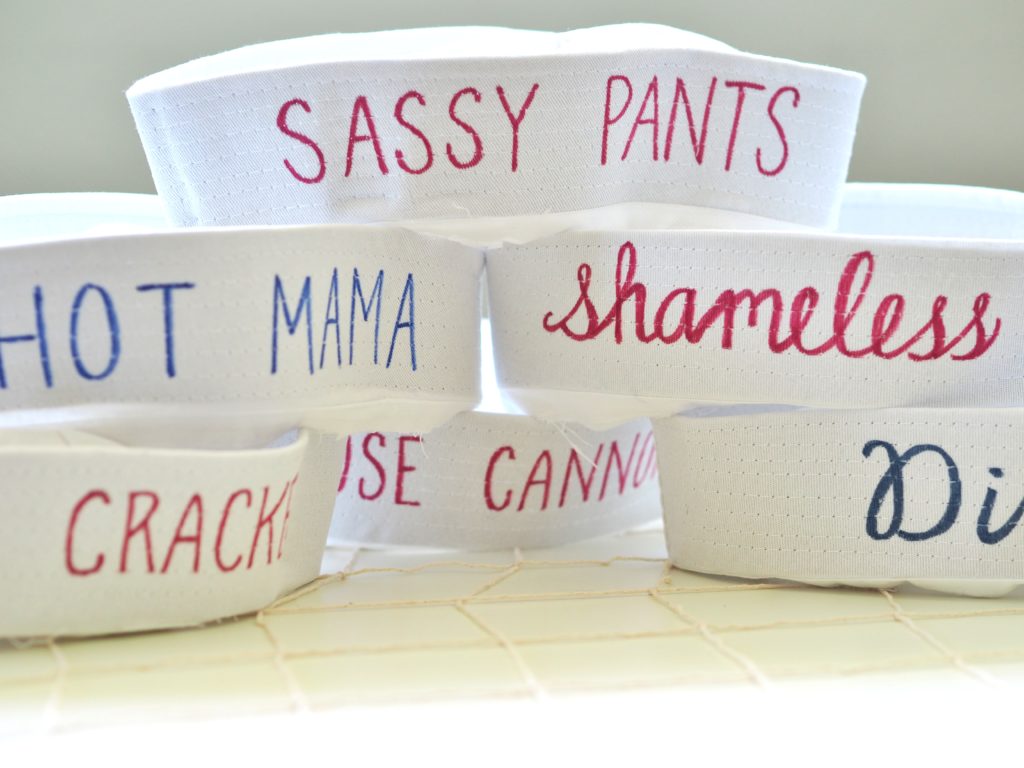 And of course if you're on a boat, you have to have a captain, or in our case, several captain hats.  And some sailors too, with saucy sayings like "shameless," "wrecking ball," and "sassy pants."  One thing led to another, so I also had playful boat party photo props like life preservers, boas, ship wheels, and anchors.  I may have gotten a little carried away…  But hey, is that really surprising?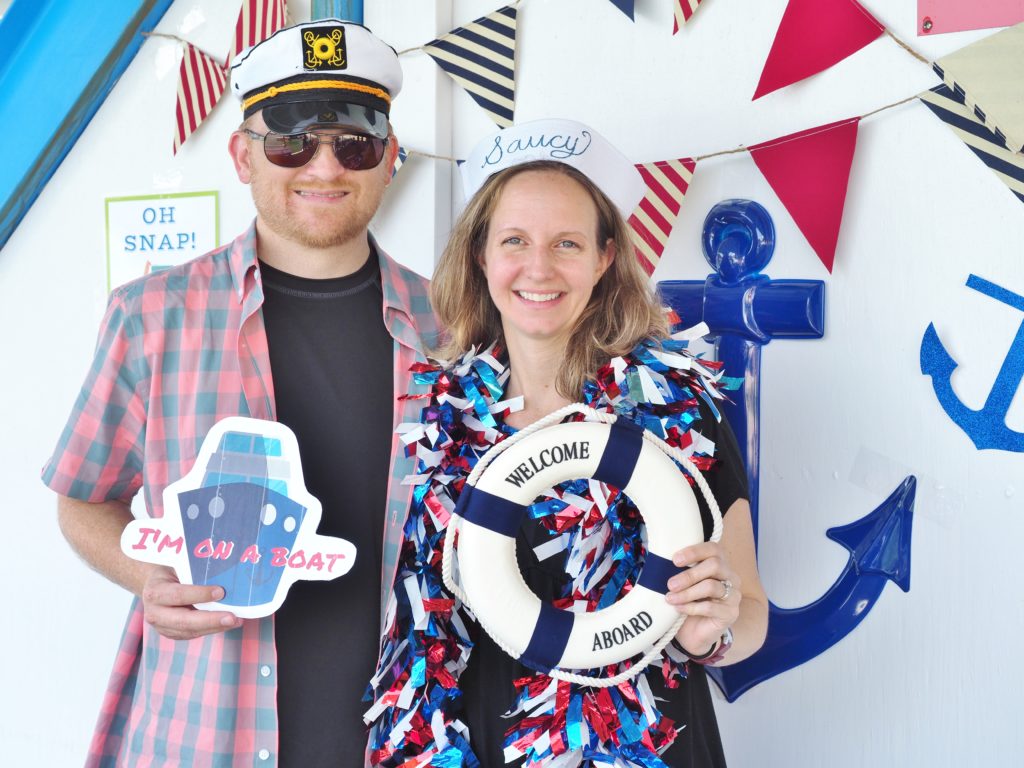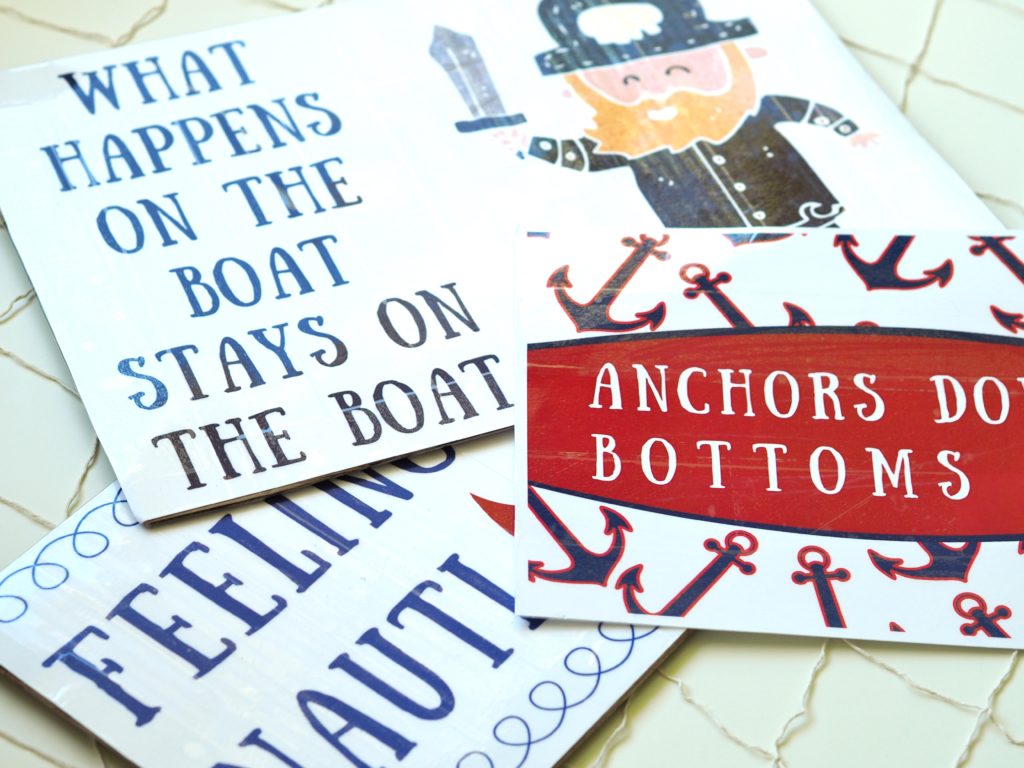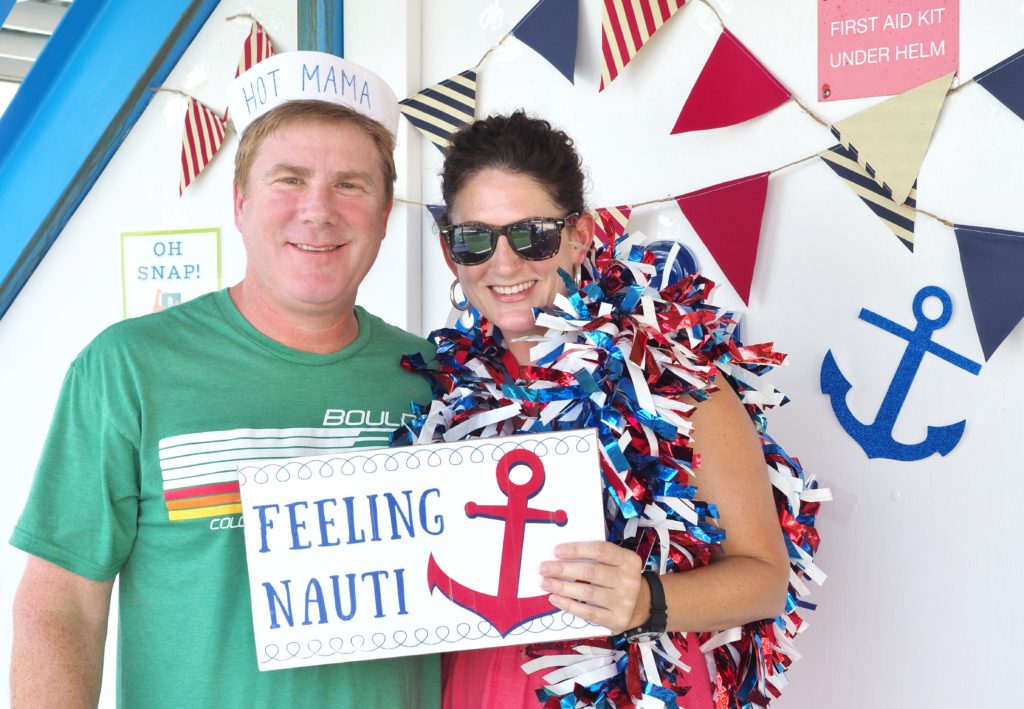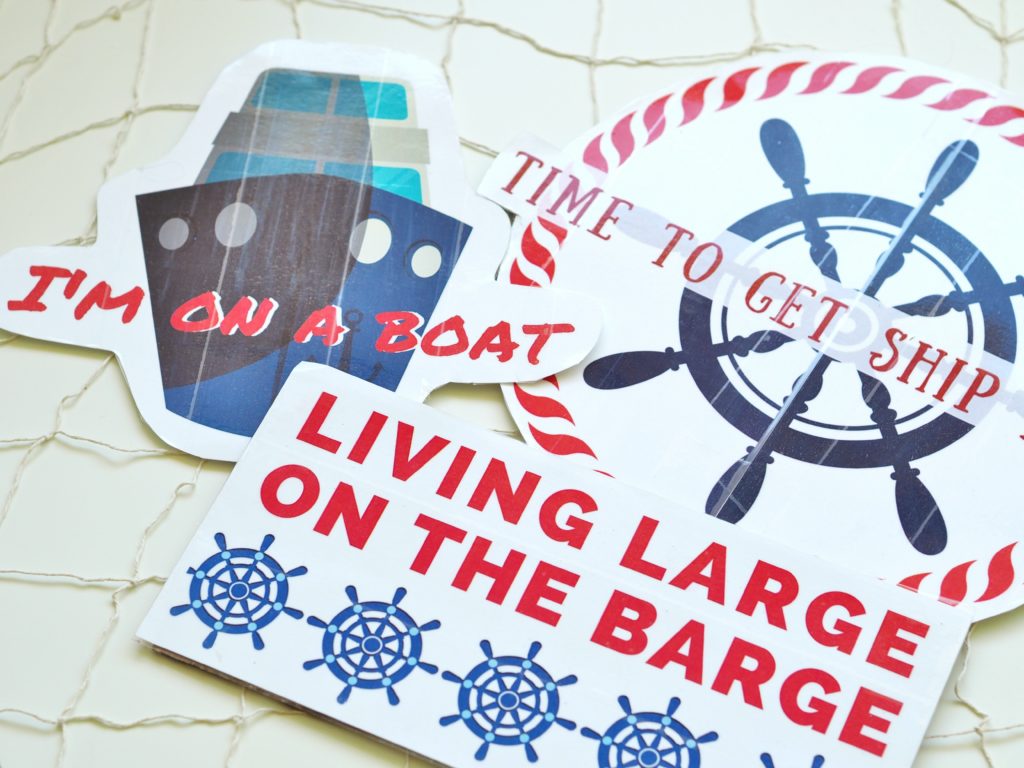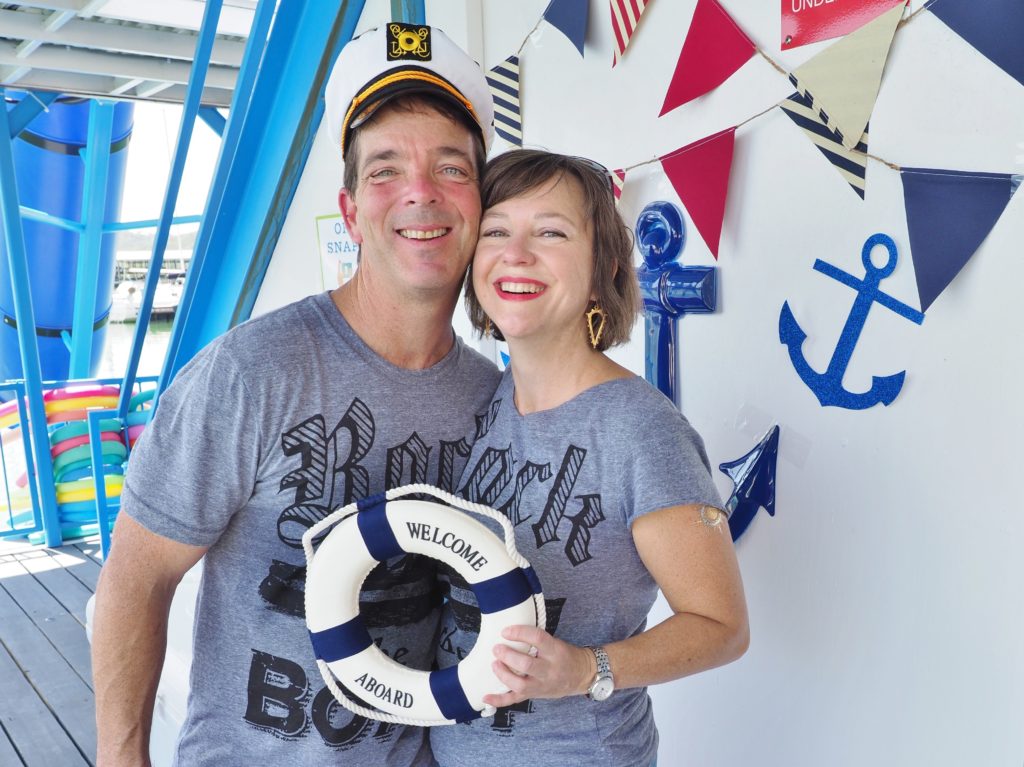 Festive food & drinks
In keeping with our high class trash concept, we had some pretty bad-for-you munchies that I would never ever let my kids eat.  I couldn't exactly let the kids see all the junk food we were buying, so instead Paul and I spent our date night shopping at the liquor store and grocery store.  That's romance right there…
So we headed to the grocery store where we did our best to completely clear out the junk food aisle.  Yep, we were doing you other folks a favor by removing all of that artificial food from the shelves.  For real.  I'm talking chips of every kind and flavor.  Oreos full of trans fats.  Caramel and cheese popcorn.  Cupcakes.  Sticky sweet watermelon.  Ooey gooey chocolate chip cookies.  I'm salivating just typing the words…  And to make sure we had something with a little more substance, we also paired Chik-Fil-A nuggets with some gourmet Fischer & Wieser sauces to balance all the sweet and savory treats.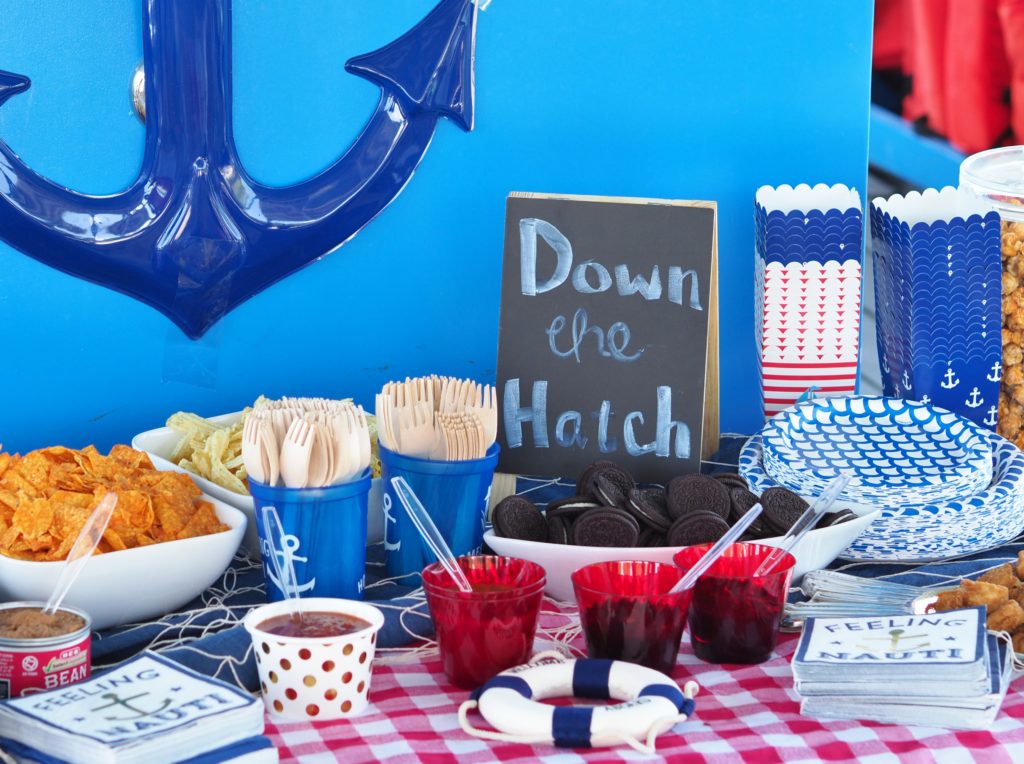 But the best food of all wasn't even something we brought.  Our clients Carrie and Steve joined us on the lake and treated us by bringing the best homemade brownies ever.  So. Freakin'. Good. These two own Kurant Events catering, and those brownies make me want to have another event just so I can have Carrie and Steve cater it.  Seriously.  I will be forever jonesing for those brownies.  But I digress…
Given that it was an adults-only party, the drinks were paramount.  We had water, sodas, canned champagne by Sofia Coppola and rose, and the keg of Dos Equis.  But for the more adventurous we had liquor on hand to create your own cocktail.    True to our Texas roots, we focused on Texas-brands, including 512 Tequila, TX Whiskey, and Tito's Vodka.   We were just doing our part to indoctrinate our clients from foreign lands (okay, California, Illinois, and New York) in the ways of the South.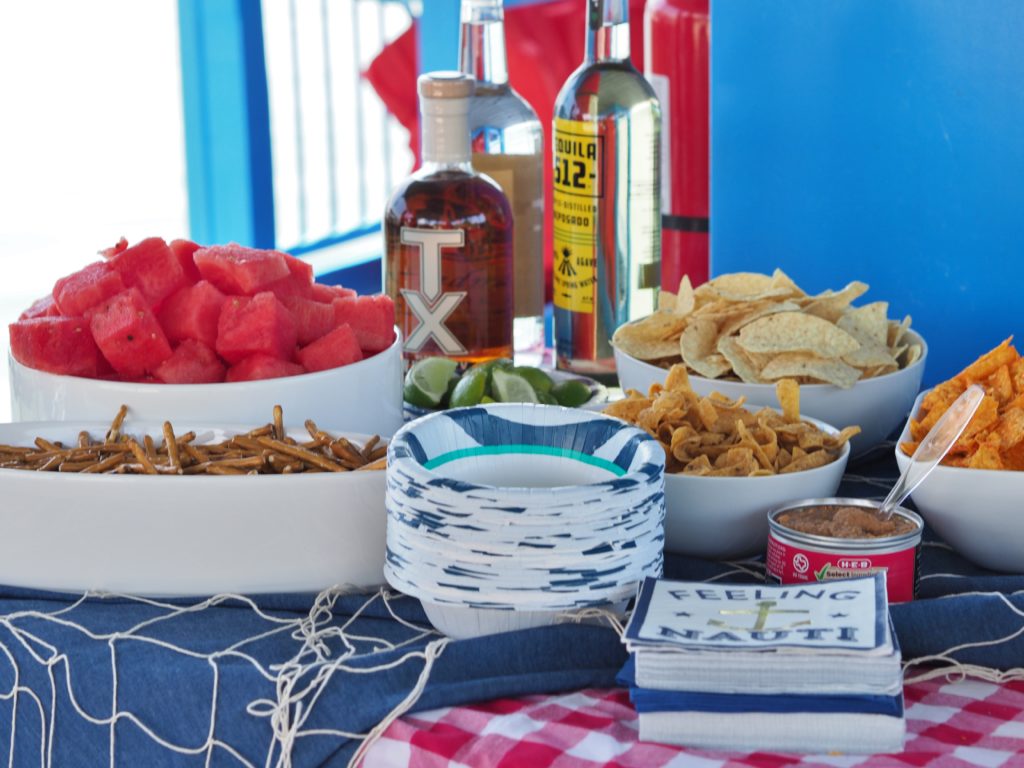 We only had about 45 minutes to get everything in ship-shape before our guests arrived, and that included making numerous trips down the big hill from the parking lot to the dock.  My husband served as pack mule while I quickly set the table and decorations out.  Checkered table cloths, denim, and fish net lent a nautical air to the food table.
Boat party time
After hurriedly pulling everything together, we were able to kick back and relax with our guests as we cruised around Lake Travis before tying off on one of the islands.  We enjoyed the water slide and welcomed the chance to cool off in the water. An unexpected rain storm didn't dampen the mood.  We just took advantage of the short break to fuel up on more food and drinks, and then we hit the water again.
It's not often that we get to spend a carefree afternoon with other adults out on the lake.  It was a refreshing break for us, and we had a blast spending some relaxed time with our friends and clients.   This boat party may become a regular thing.  And I have just the idea for next year's party!