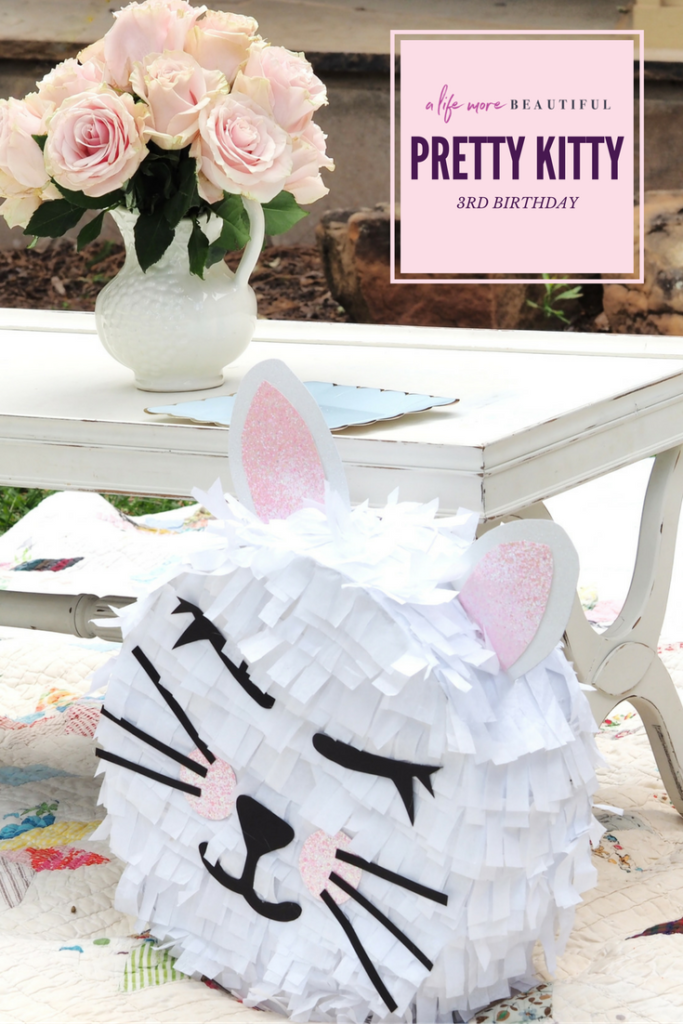 My daughter's 3rd birthday party started like most of my event planning – on Pinterest.  I reviewed the party ideas I had previously saved, and I was attracted to some images of a cute kitten birthday party.  Given that we have a house full of critters it seemed fitting for my daughter's 3rd birthday party.  I latched onto the pretty kitty theme and ran with it.
After some visual brainstorming and lots of late-night shopping on Amazon, I was ready.  A few weeks before the party I hand-delivered these cute cat invitations to Linden's classmates.  I know electronic invitations are easier, but I just love the look and feel of a real paper invite.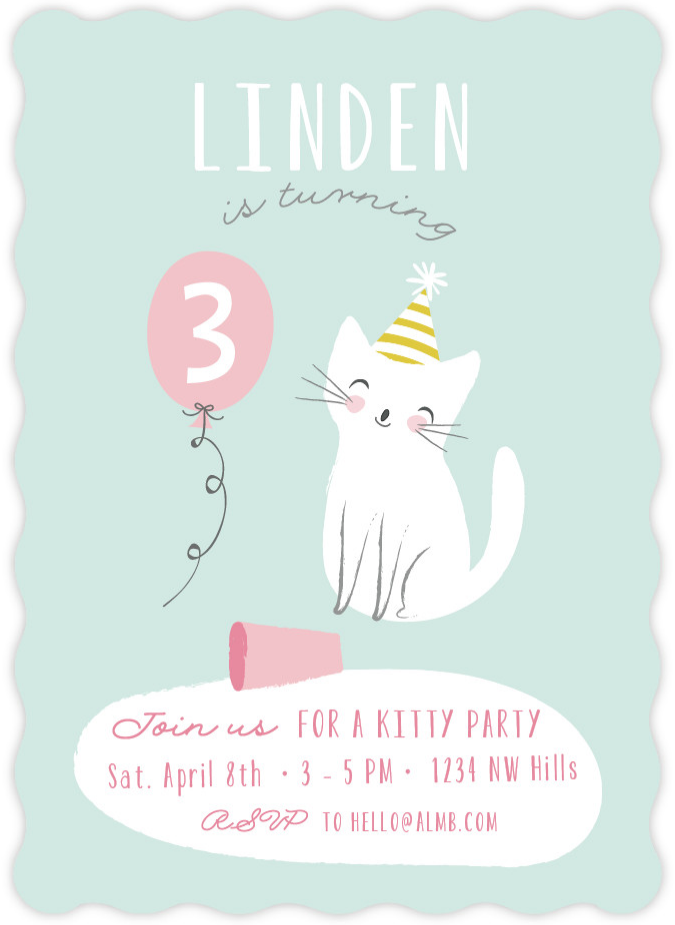 Once the invites were out, I started creating some of the decorations for the party.  I used Canva to make a few custom signs for the table and also incorporated clip art from Nina Designs that I found on Pinterest.  Nothing too elaborate, but a few "meow mix" and "fancy feast" signs were helpful in building on the pretty kitty theme.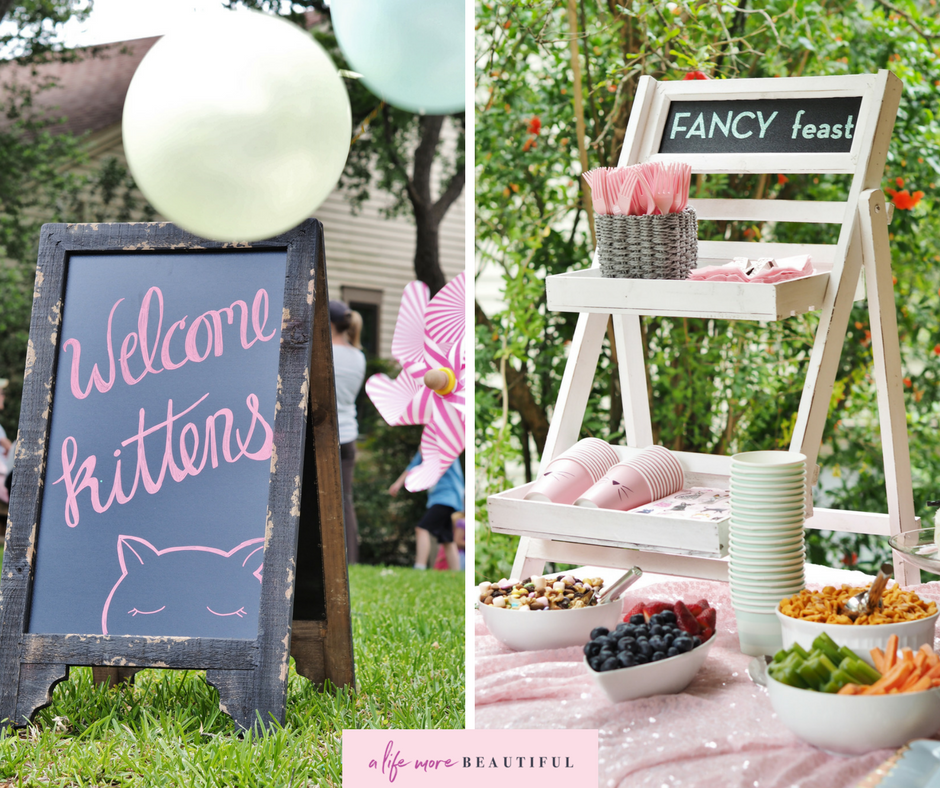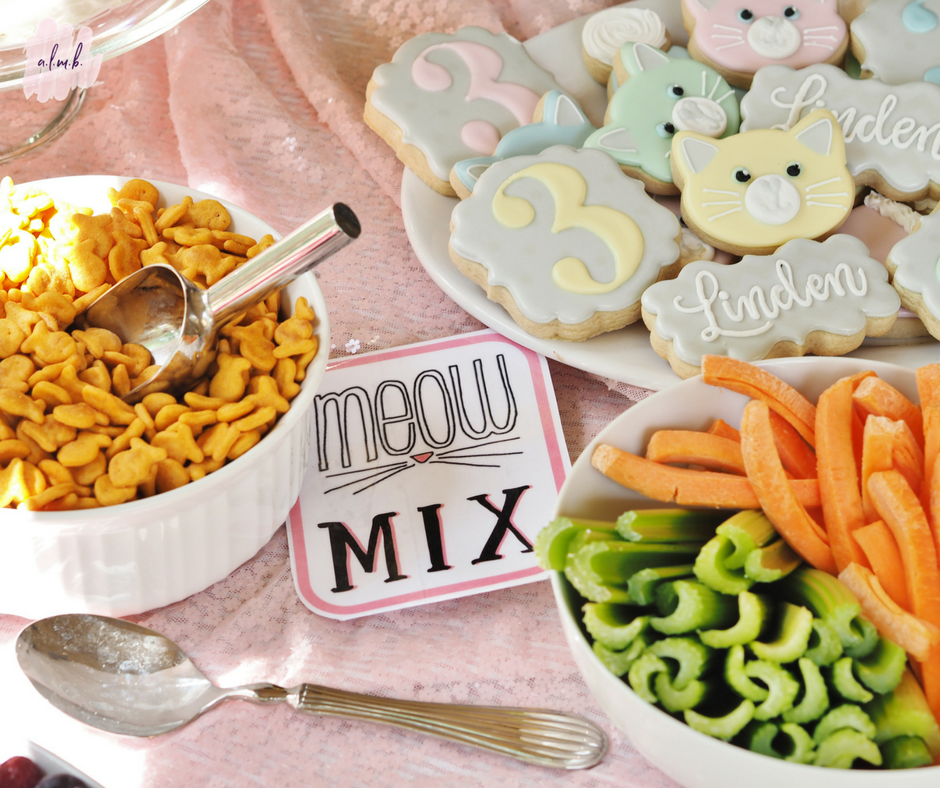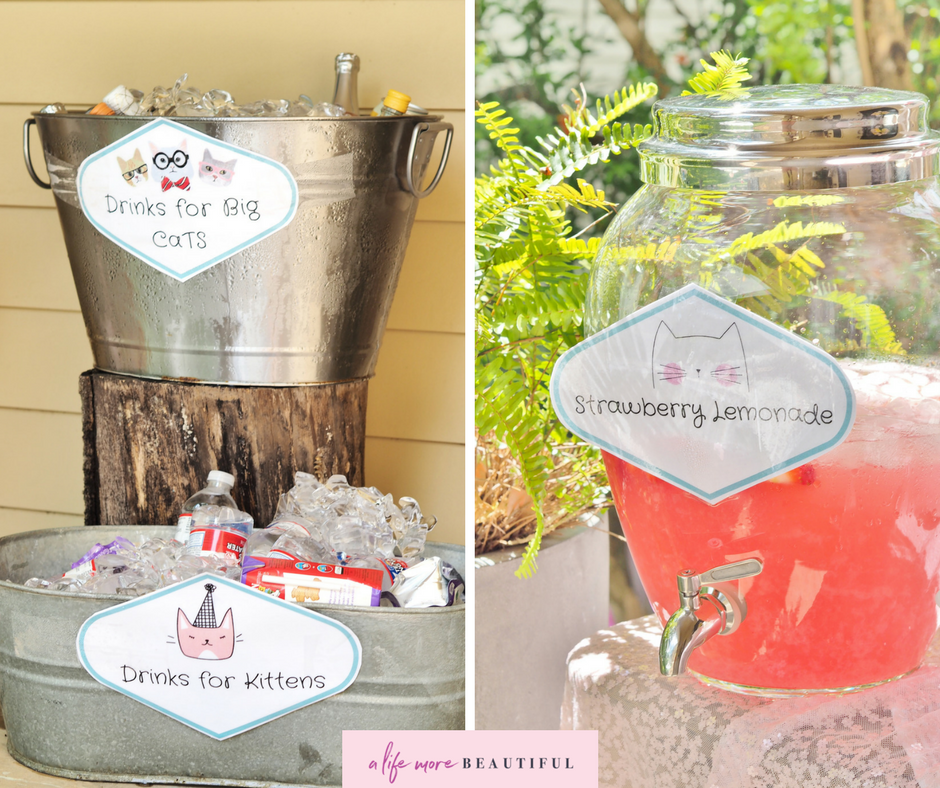 I was also inspired to create a kitty corner where the children could interact with larger-than-life cats.  The cats are made with only 4 basic components — posterboard, a marker, dowel rods, and hot glue.  It made a fun photo backdrop at the party.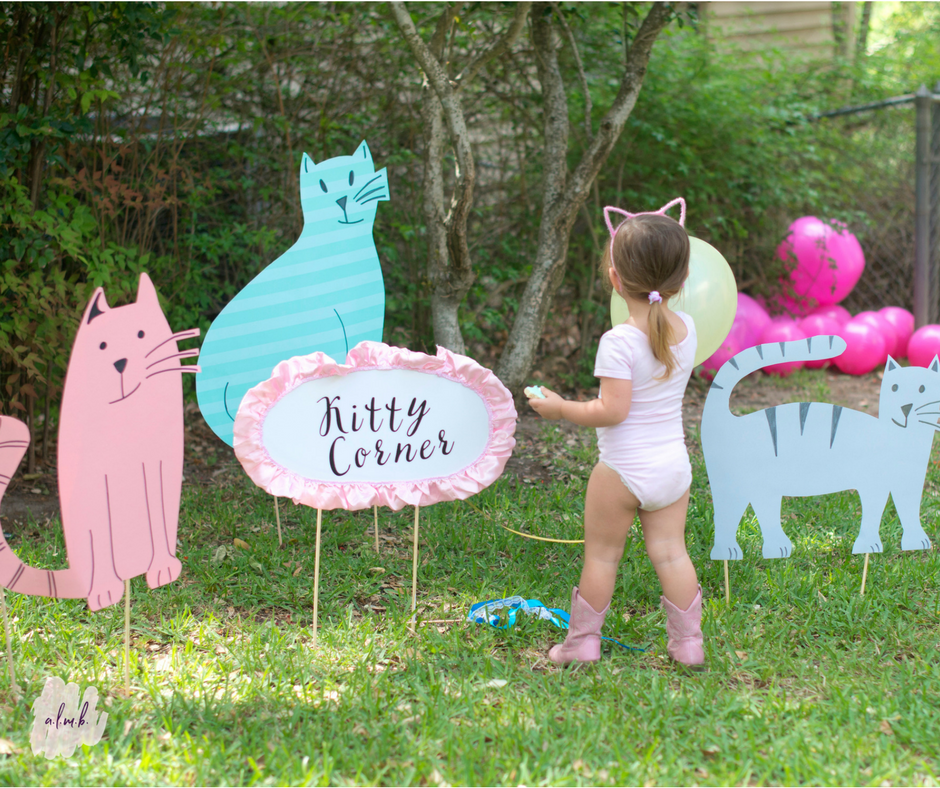 My most ambitious creation for the party was a pretty kitty piñata.  I saw the tutorial on Pinterest courtesy of 100 Layer Cakelet, so I decided to give it a try.  Let me tell you, it's time consuming to make a piñata when you are cutting your own fringe…  But I stayed up late one night with my glue gun, and voila!  I modified the original instructions a little, but the end result worked out great.  Perhaps too great because no one could really break the piñata, including two very enthusiastic six year old boys!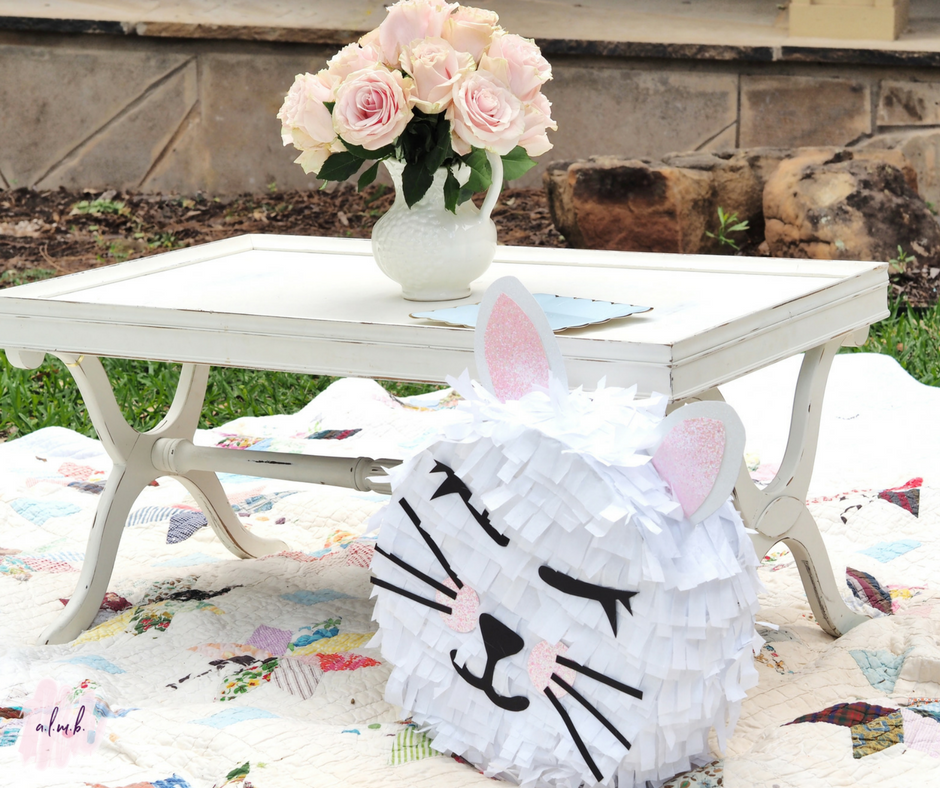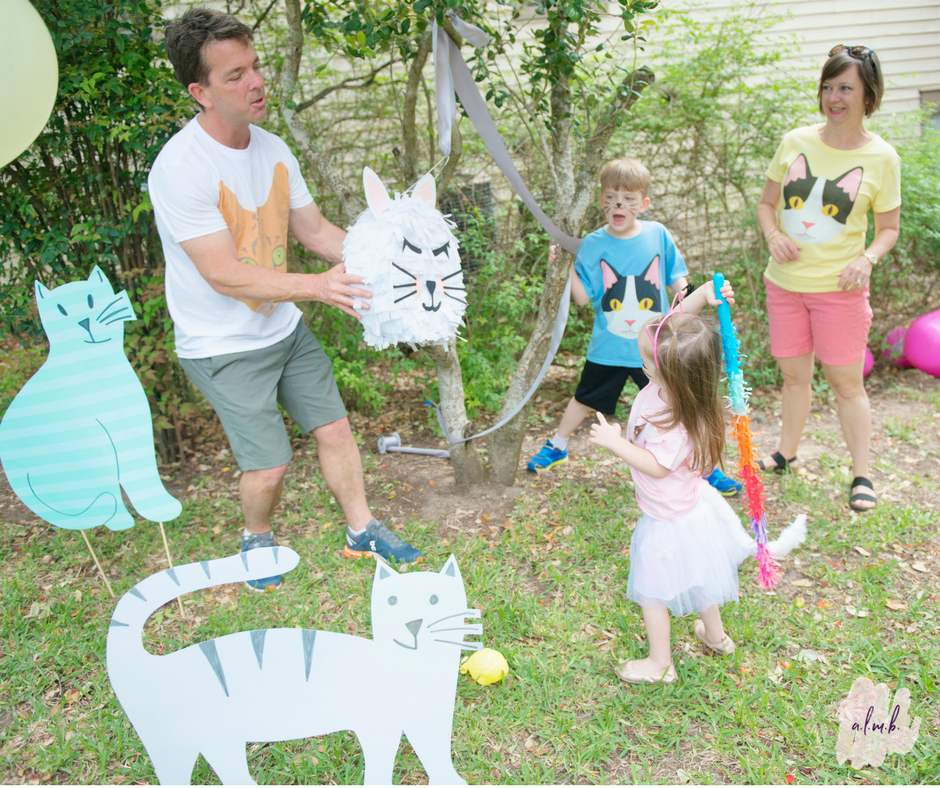 Party on…
Since it was an afternoon party, I kept the food simple and kid friendly — goldfish, cut veggies, fruit and homemade trail mix.   My favorite treat on the table were these adorable custom cookies made by the Shortbread Baking Company.  They did an excellent job of creating cookies within our color palette and pretty kitty theme.  And they tasted divine!  For table covers I typically buy a few yards of fabric from JoAnn's, and this time I fell for this sheer pink fabric with flower shaped sparkles.  It was so precious and girly…  I accented the table with some flowers I bought at the grocery store and arranged in one of my go-to vases.  Hydrangeas and roses are always a winning combination.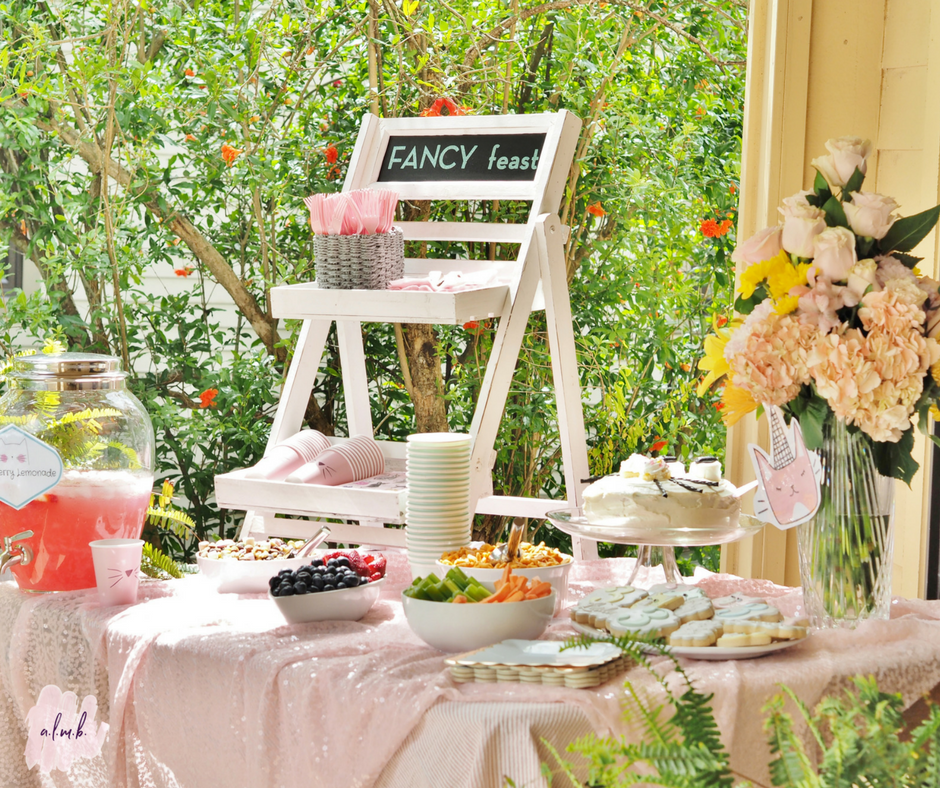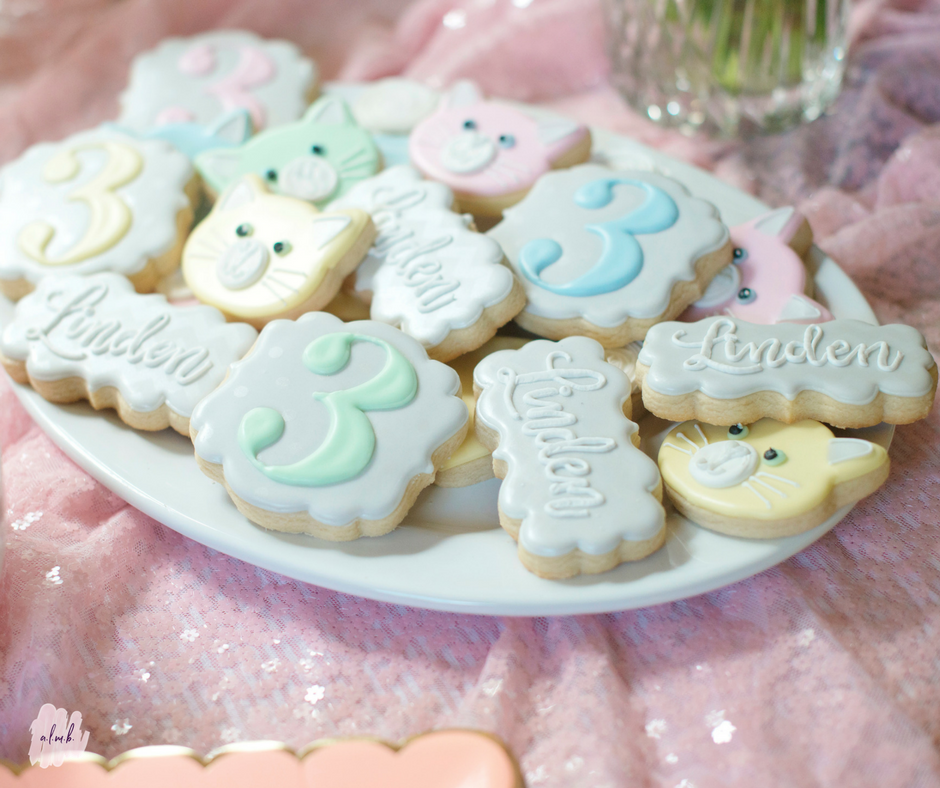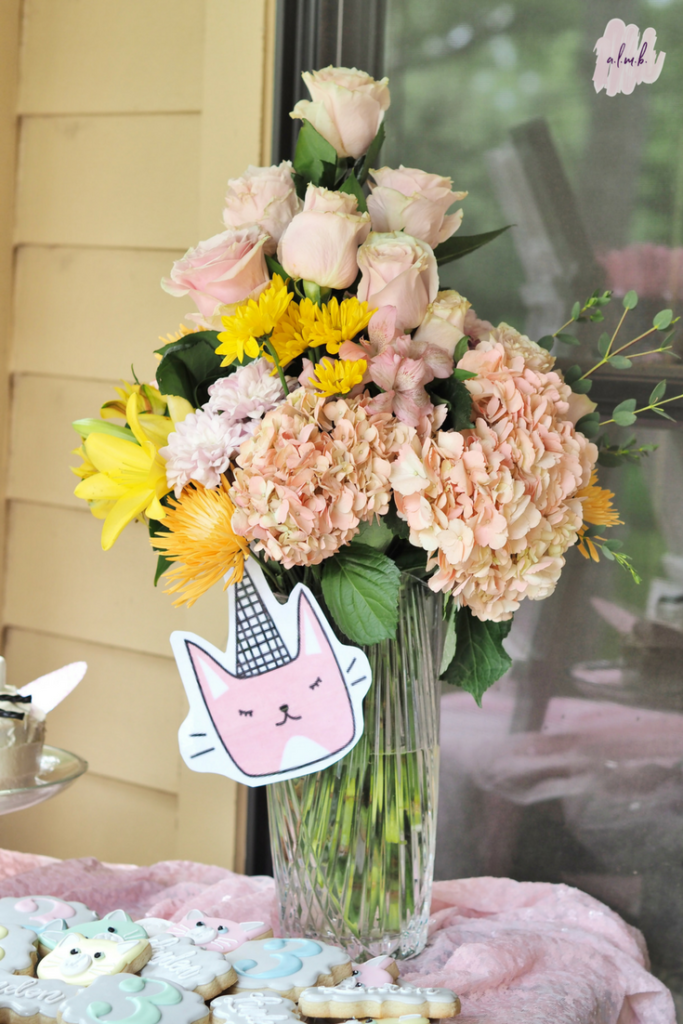 Plastic kitten headbands and cat chase toys (ribbon wands) helped everyone get in the kitten spirit.  I also painted whiskers and noses on all the kiddos.  Such cuteness!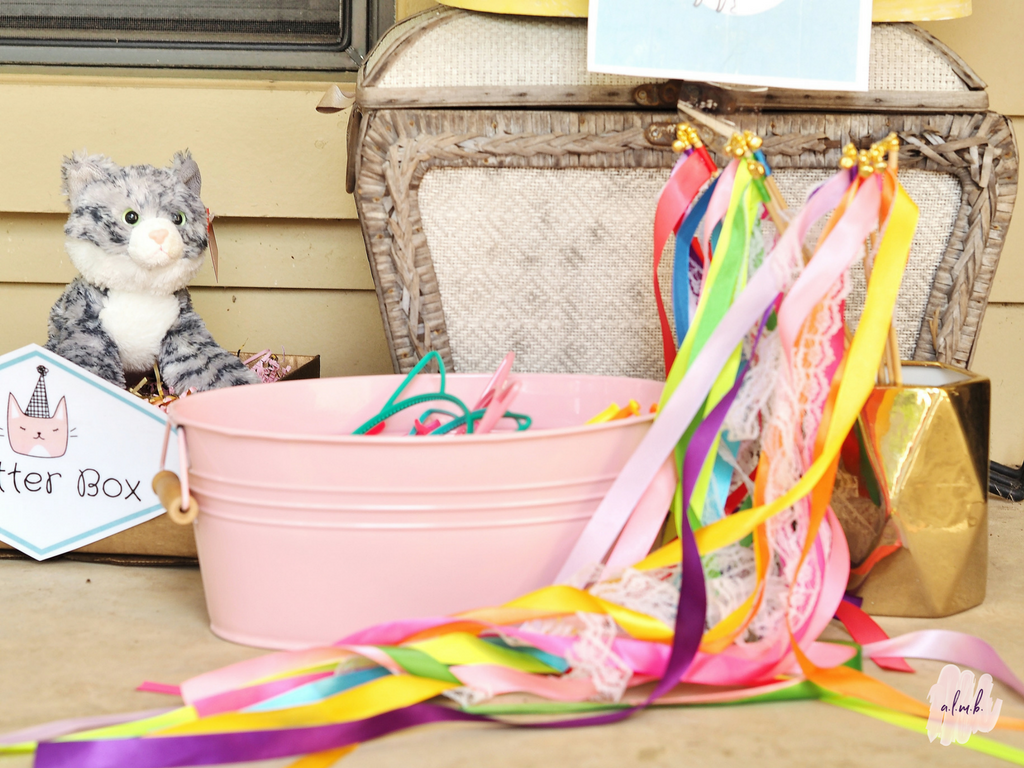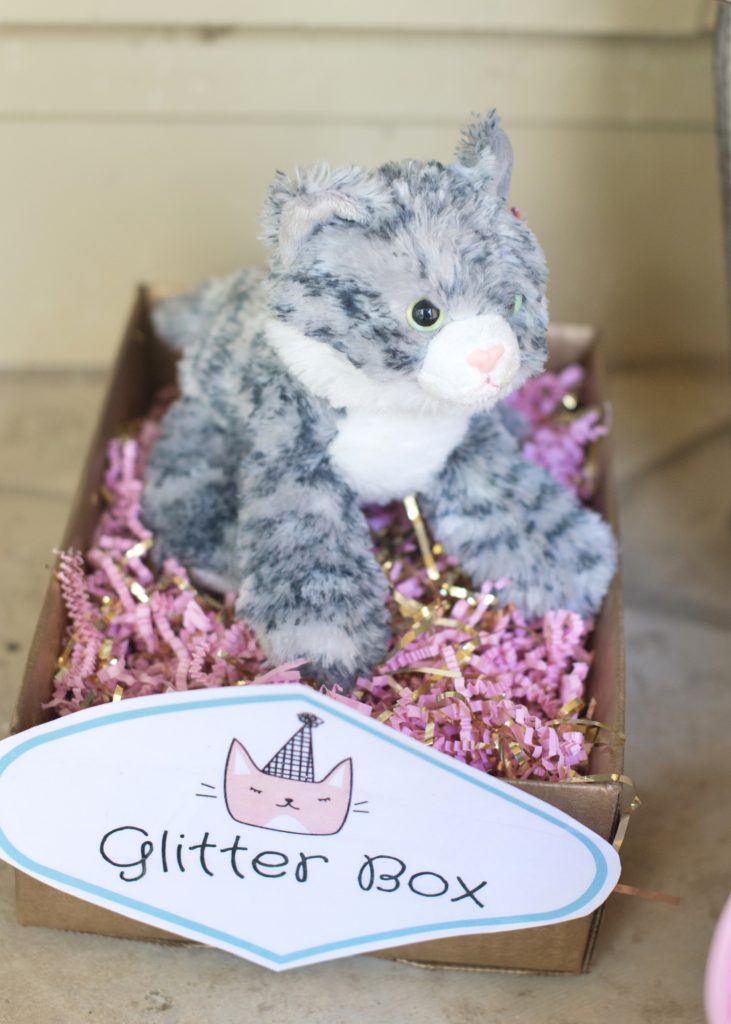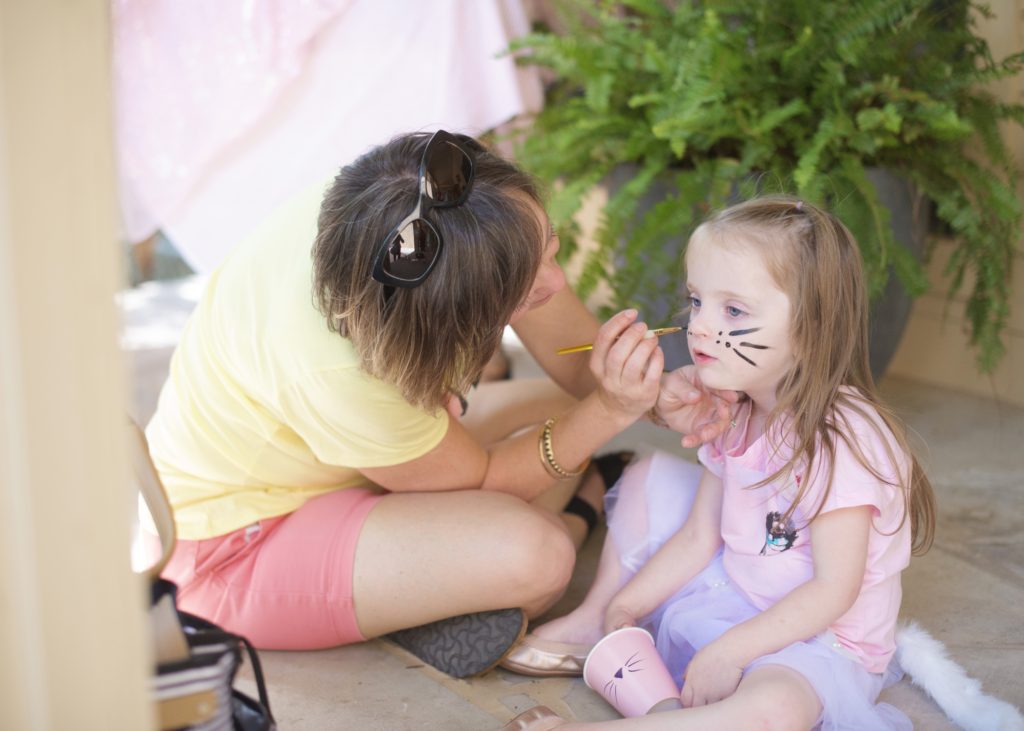 It sometimes takes awhile for everyone to overcome their shyness and get in the party spirit, so I like to offer a quiet activity for the kids to engage in individually until they are ready to interact with everyone.  To that end, I had a table with crayons and kitten coloring sheets set up.    With this age group I try to introduce a variety of activities throughout the party so that everyone stays happy and engaged.  Later I transitioned to a cat craft where the kids glued googly eyes, ears, and whiskers on kitten faces made of paper plates.  For the more active children we had 20 or so pink beach balls scattered on the lawn for free play.  When the kids started to get restless we busted out the parachute, which elicited lots and lots of giggles.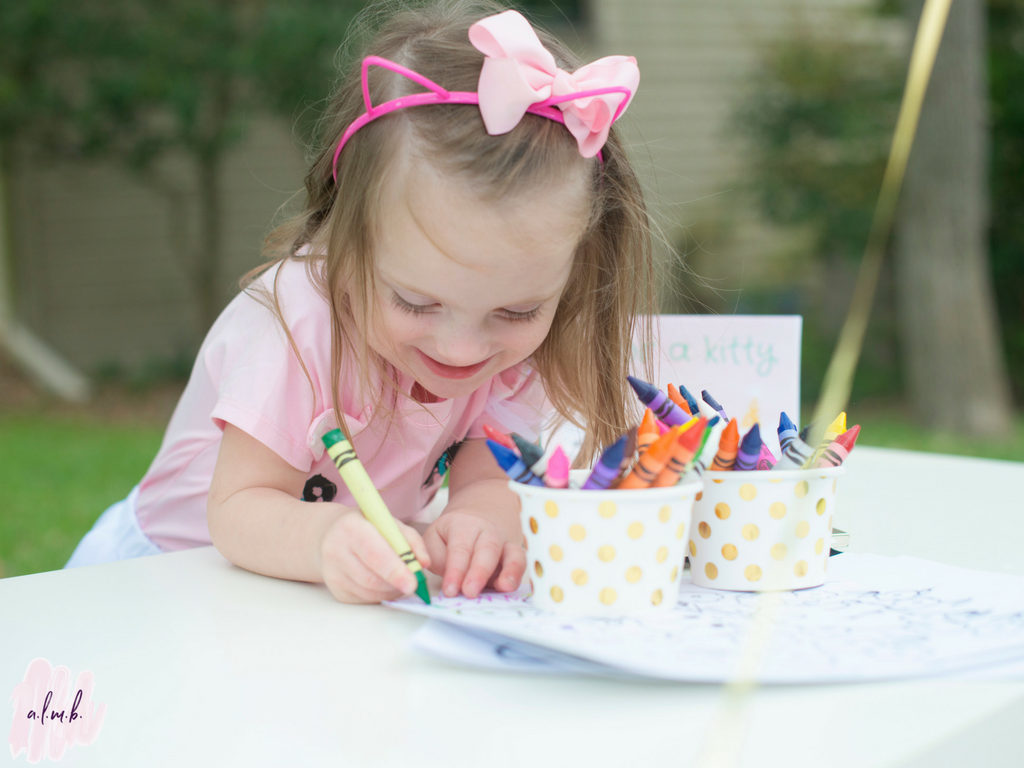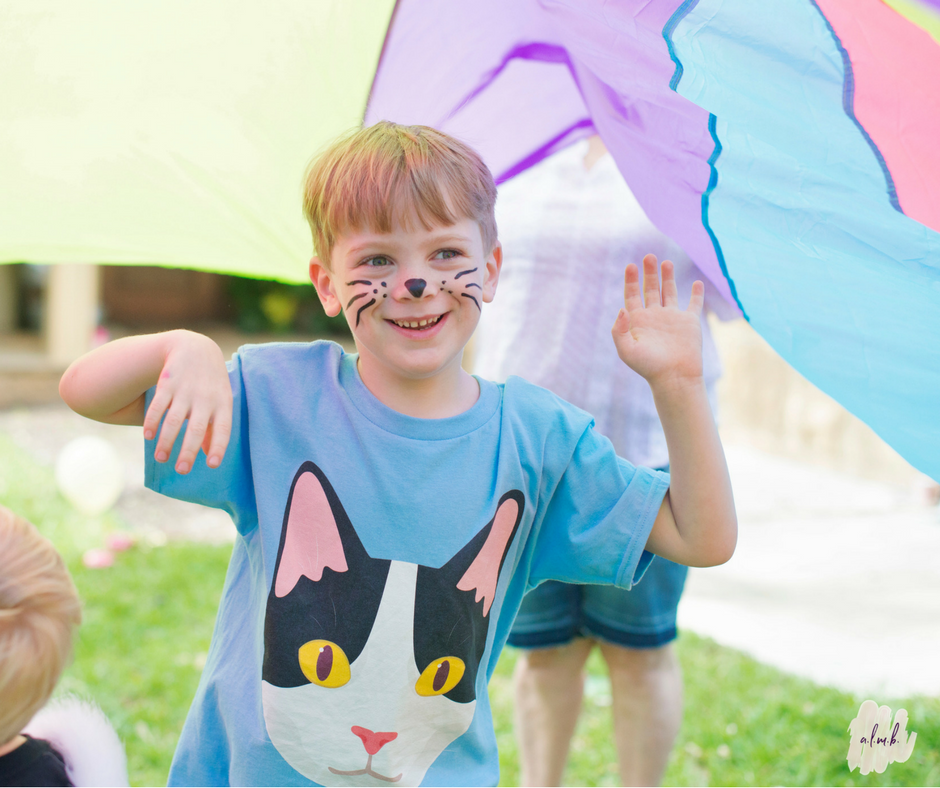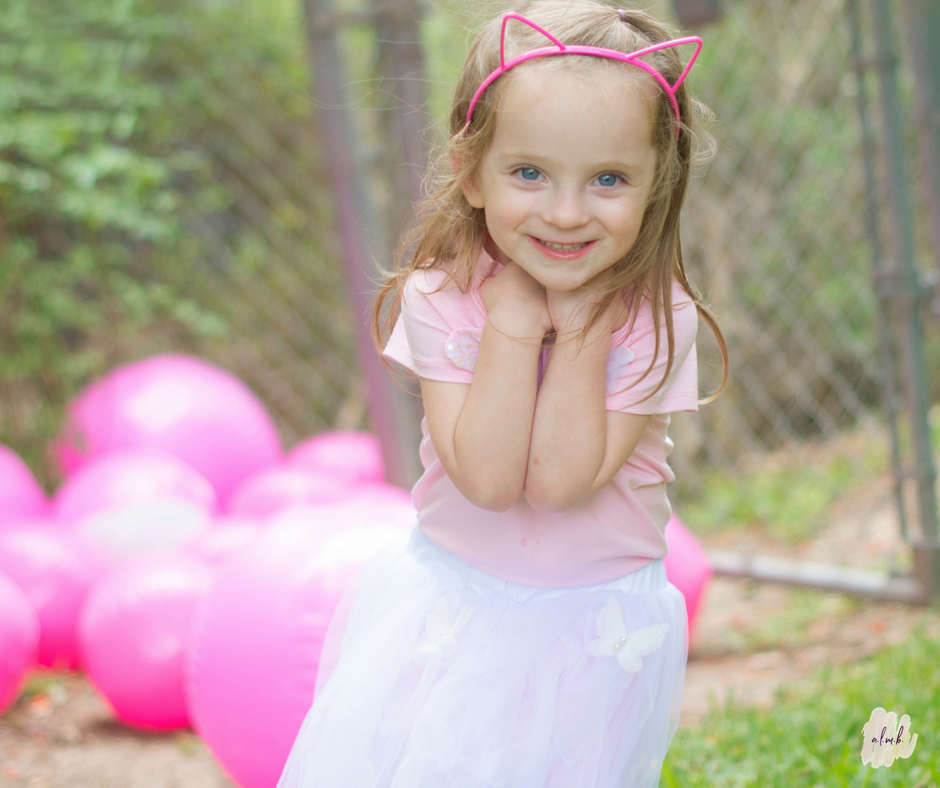 I also created a simple photo booth with a few homemade photo props.  The black and white cat photo backdrop was sheer luck.  I was shopping for cabinets at IKEA for our Balcones remodel project and found these cute black cat curtains (you can get them here).  I repurposed them as a photo backdrop, and I hope to re-use them again this Halloween.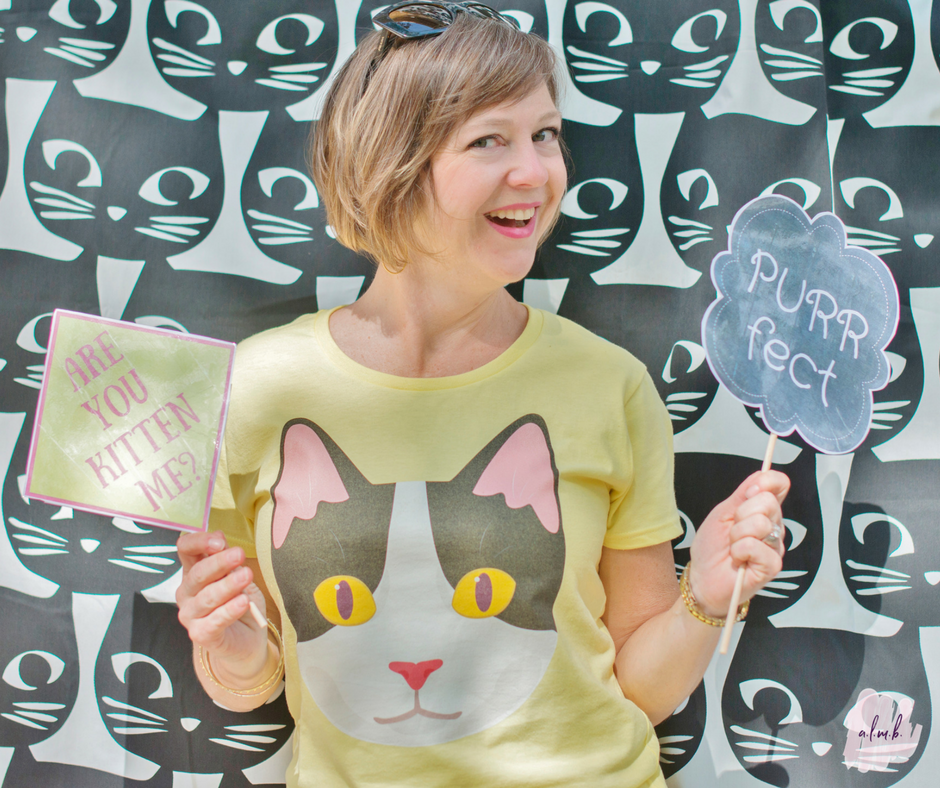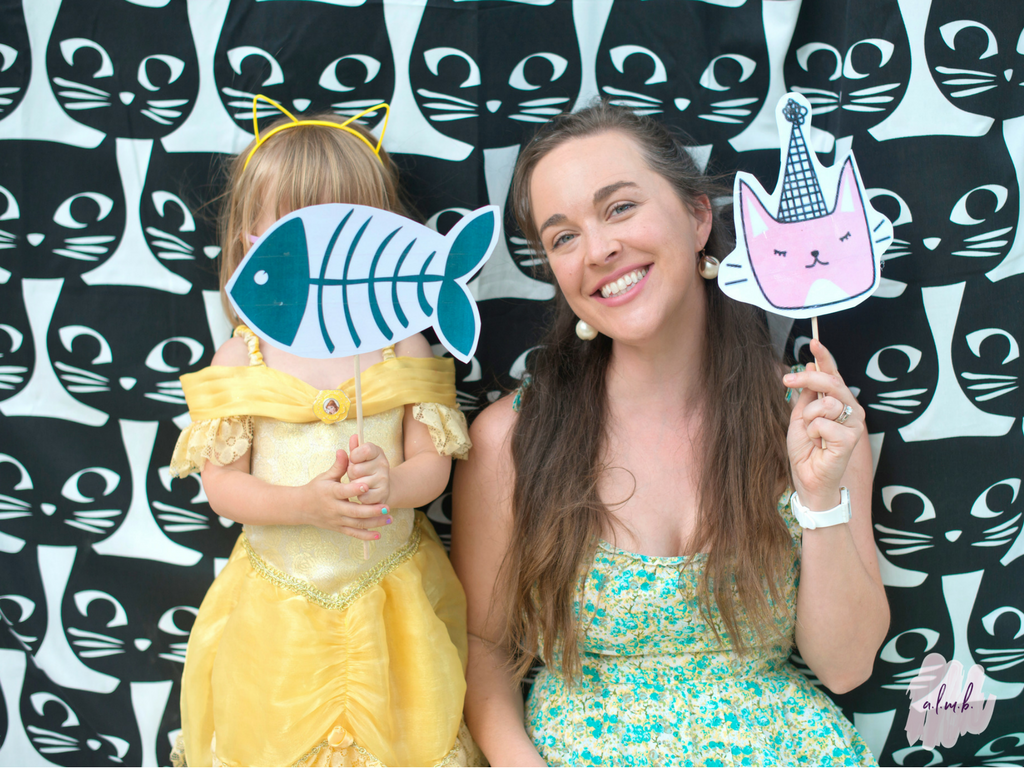 Let them eat cake!
The final activity of the pretty kitty party was singing happy birthday and having cake.  That's right, get those kids sugared up and send them home!  Ha!  This year I was feeling inspired, so I made my own simple kitten cake.  It's not the cutest thing ever, but it worked.  Two layers of round cake, cardboard ears, marshmallow nose and eyes, licorice whiskers, and cupcake cheeks.  The kids gobbled it up, and later at the party I caught my daughter "serving" the rest of it.  Needless to say, it did not survive her work with the spatula…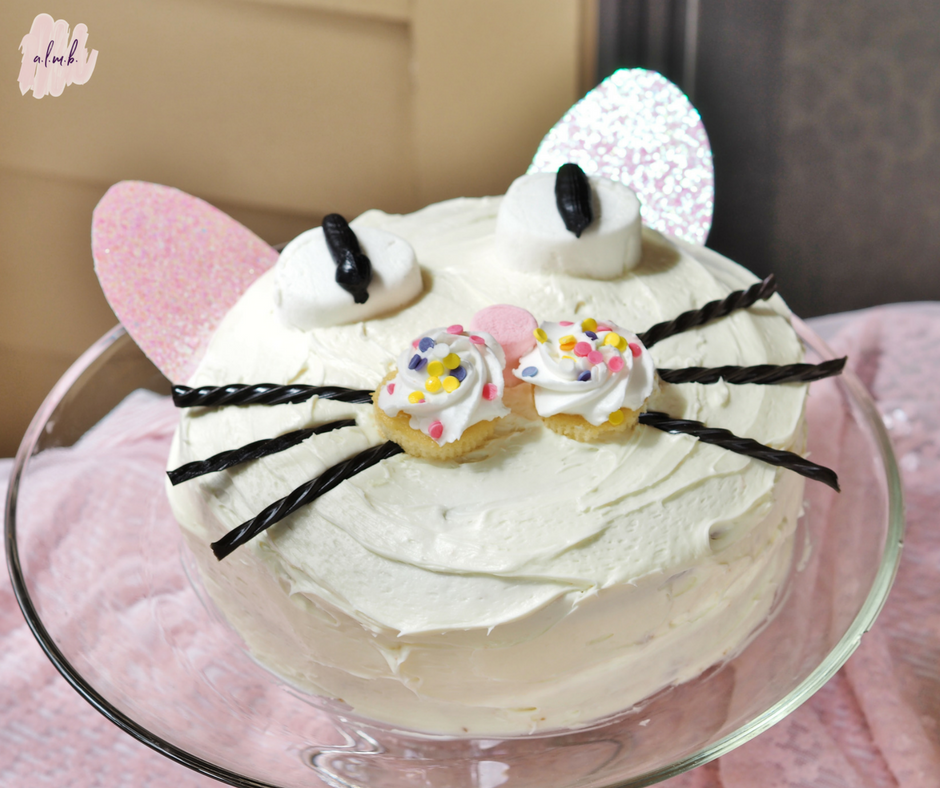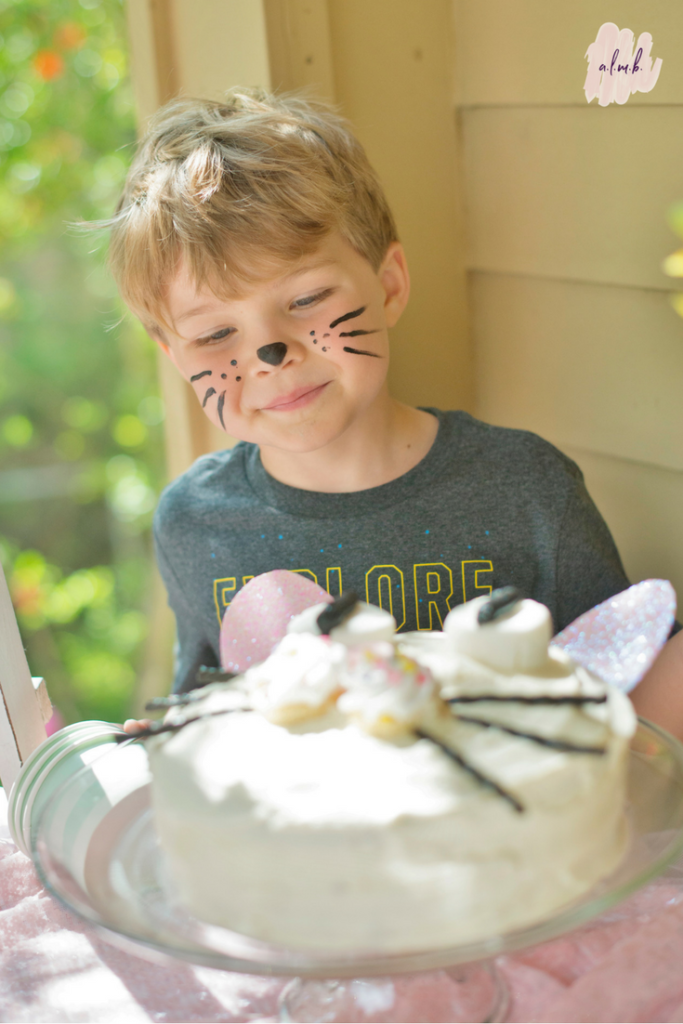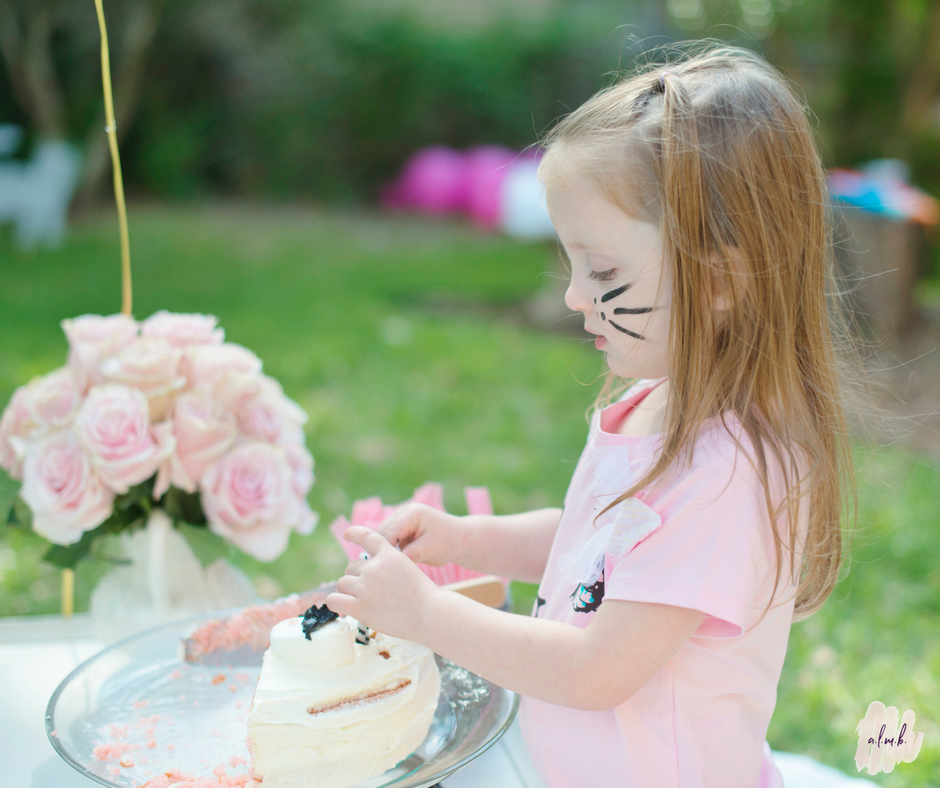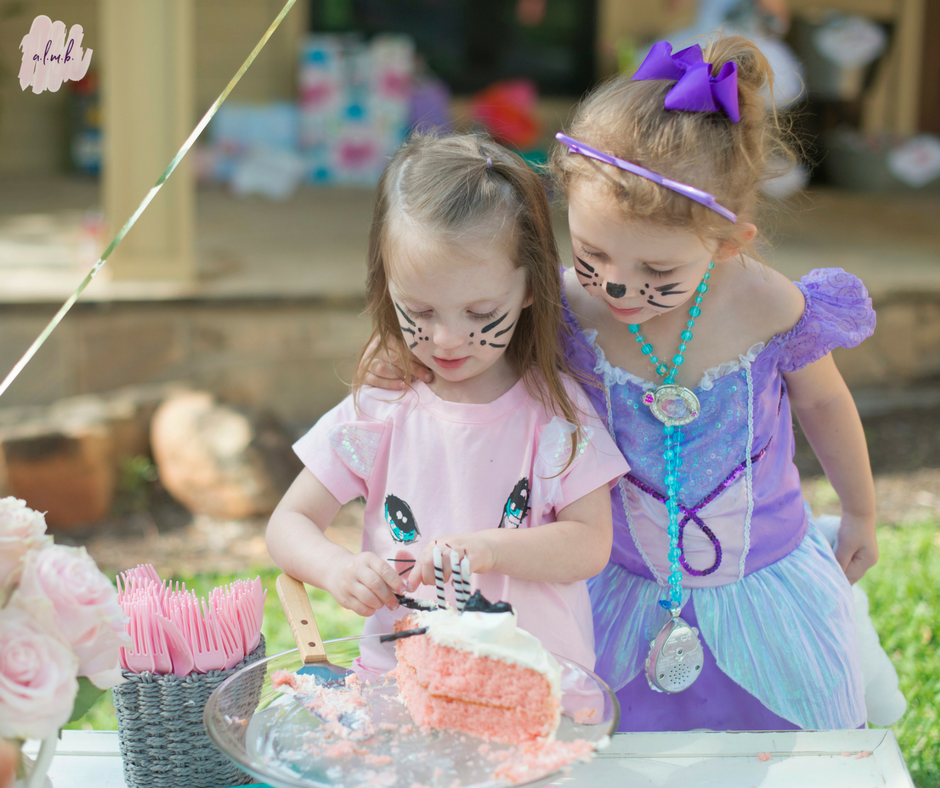 While I love the beauty of a custom cake, I learned the hard way that expensive cakes don't do much for my marriage.  At my son's first birthday party I ordered an expensive custom cake and sent my husband to pick it up.  After he almost had a coronary at the cost, I learned to work with our local grocery store to make a decent looking cake, and sometimes I make my own like this year.  The result isn't as pretty, but it helps keep the party costs down.
As the party wound down I sent each child home with an "adopted" stuffed pretty kitty.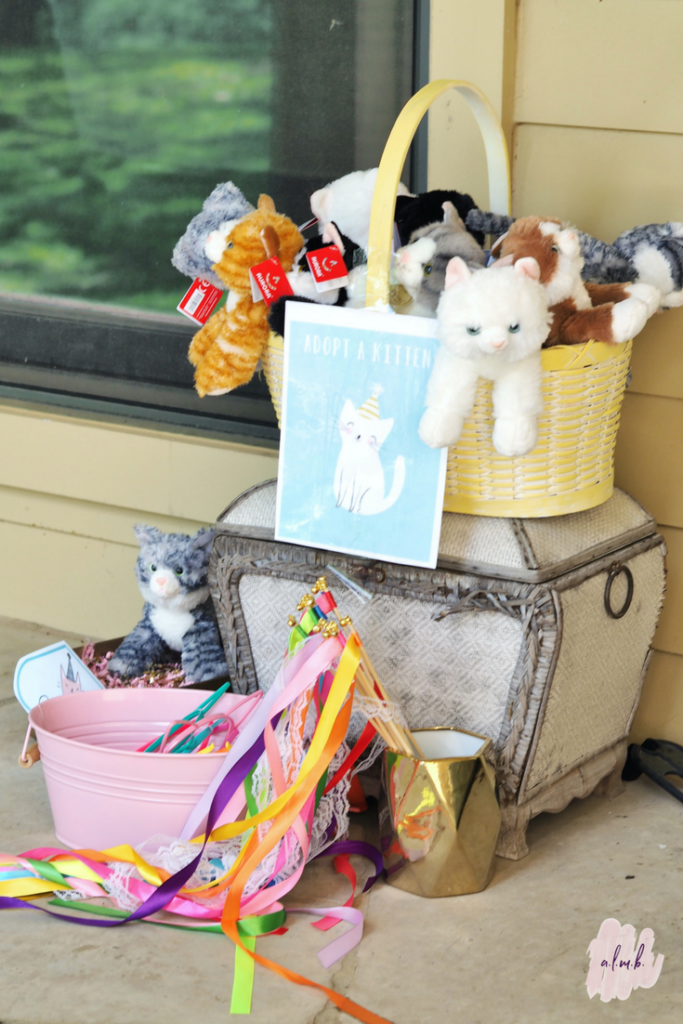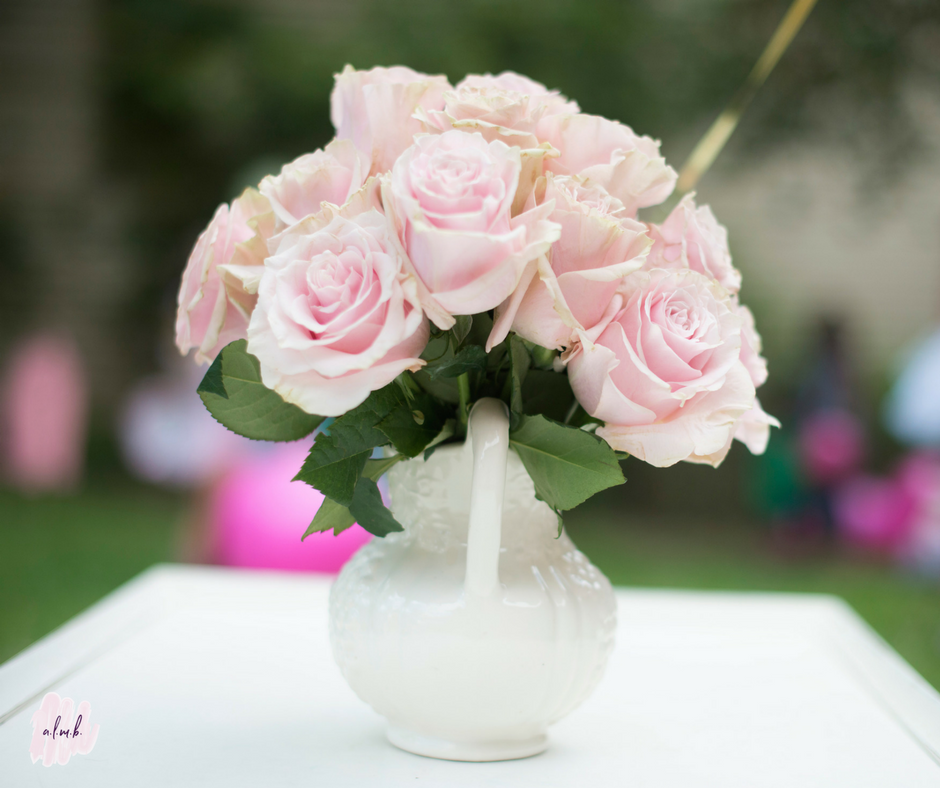 After everyone went home our family lounged in the grass and enjoyed the rest of a beautiful Austin day.  The smiles and giggles are what it's all about.
A special thanks to our friend, the amazing Tricia Dunlap of Dunlap Portrait, for all of the great photos.  She captured the fun spirit of the day perfectly.